by Dawn Brazell
Public Relations
Having been on all continents except one, Louis Guillette, Ph.D., gets great job perks. There are the hazards, too, though. Mosquitoes, the size of small birds. Or the rare boating mishap, one of which left him stranded overnight on a tiny island in the Florida Everglades, surrounded by the glowing red eyes and the thrashing, reptilian tails of the alligators he studies.

There is that.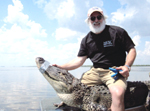 Dr. Louis Guillette performs a health check and tags an alligator before releasing him.


Guillette grins, his eyes alight with his passion for studying the wildlife sentinels that give insight into the delicate web of how the health of the environment impacts human health. As MUSC's new Center of Economic Excellence Endowed Chair in Marine Genomics, Guillette also holds a joint appointment in MUSC's Department of Obstetrics and Gynecology and the Marine Biomedicine and Environmental Sciences Center.

Roger Newman, M.D., professor in the Department of Obstetrics and Gynecology and vice chairman for academic affairs and director of research, served on the search committee. He said he's thrilled to bring in someone of Guillette's caliber and capabilities who can accelerate ongoing research and bring in the new dimension of environmental health.

"Dr. Guillette is clearly the right person. Everybody in the country knows him. Everybody in obstetrics and gynecology who has an interest in environmental health and reproduction knows him."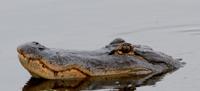 Major reports that have been published in the past few years underscore the same conclusions about how environmental contaminants are impacting human health, he said. It's interesting to see how female, baby alligators exposed to environmental contaminants have changes in their ovaries that look very similar to what is seen in patients with polycystic ovarian syndrome.

"You see these things, and you can't help but wonder. We're past the wondering stage, and we're going to the asking questions stage," he said. "It's an area that's begging for quality scientific investigation, and we're positioning ourselves to do that. We're excited about the possibilities over the next five to 10 years. Environmental health is going to be one of the major health issues in the United States for the next 20 years."

Dr. Louis Guillette


Guillette will split his time between his office at MUSC and his laboratory at Hollings Marine Laboratory (HML), which is a partnership among MUSC, the S.C. Department of Natural Resources, the National Oceanic and Atmospheric Administration (NOAA), the National Institute of Standards and Technology and the College of Charleston.

Eric R. Lacy, Ph.D., director of MUSC's Marine Biomedicine and Environmental Sciences Center based at HML, was influential in the recruitment of Guillette. Lacy with his colleague, Norine Noonan, Ph.D., former dean of the School of Mathematics and Science at the College of Charleston, wrote the successful multimillion dollar proposal that included a complementary endowed chair in marine bioinformatics.

Together these two positions were expected to expand on the nucleus in genomic sciences developed between the schools to develop a world-class program in environmental health. Lacy said the inclusion of the College of Charleston through its Grice Marine Laboratory will provide a continuum of training from undergraduates to medical and research doctors.

One of HML's goals is to link ongoing environmental research in contaminant chemistry with clinical applications that have the potential to directly impact patients' lives. The laboratory, one of three NOAA Oceans and Human Health Centers nationally, will fit exactly into the kind of research that Guillette is doing, Lacy said.

"Now we got it. It was fortuitous. We shared this big vision and Roger gets it," Lacy said of the support of Newman and the Department of Obstetrics and Gynecology in combining forces. "We are marine biomedicine. We have medicine as a part of our name. This direct link and program building, we've never had at this level before. We are very excited that this has worked."

Guillette is too.
He gets to continue the type of research he was doing at the University of Florida, Gainesville, but will be able to take advantage of the resources at HML and at MUSC as well. Guillette said the next 15 to 20 years are going to reveal the huge numbers of diseases caused by environmental factors that lead to mortality or conditions such as infertility or endometriosis which dramatically lower quality of life.

"The most powerful attraction for me is that I get to wear two hats. I have the unbelievable opportunity to be in both worlds," he said. "When I'm in this lab, I'm surrounded by biologists who are thinking about ecology, conservation and environmental health. Then I drive 10 minutes, and I walk into a hospital whose major mission is not only to do the day-to-day practice of medicine, but also to try to actually understand what is the underlying basis of the disease or health that we're seeing."

Lizard man
A mountain climber and reproductive endocrinologist, Guillette developed an interest in lizards and the effect of altitude on pregnancy during his doctoral studies in environmental, population and organismic biology at the University of Colorado. When his career path lead him to Florida, his earlier studies had officials with Florida's game and fish commission knocking on his door.

They wanted advice on the reproductive biology of their alligators and for Guillette to work with them.

"I said, "No, you don't understand. The animals I work with are about this big," he says holding up his hands about six inches, "and if they bite me, I get a blood blister. I'm not going to die."

Not one to back off a challenge, Guillette became involved in their project anyway, especially when he realized that the animals weren't producing at the rates expected and the mortality of the babies was higher than expected.

"We had all the data, but couldn't understand the big picture."

Then the pieces started coming together from the research of Dr. Theo Colborn, a scientist who became known for her pioneering work examining endocrine disruption, and Howard Bern, Professor Emeritus at University of California at Berkeley, who came to talk to Guillette's group. He was speaking on "DES Daughters" about how the synthetic estrogen diethylstilbestrol affected the female children born to women who had been exposed to it, including making them prone to the development of cervical cancer.

"Howard pops up a slide of the pathology of the ovary. I said, 'Wait a minute. That's exactly the pathology I've been finding in alligators now for five years.' That was one of those ah-ha moments."

Obviously the alligators weren't getting synthetic estrogens, so the search was on for the environmental chemicals mimicking the effects. Guillette said they have found that it's a suite of compounds causing the problems, some of which they've been able to identify. It shows researchers how ecosystems affect the reproductive biology of wildlife and humans—of the powerful impact it makes on maternal-fetal communication, he said. They are learning how the developing embryo talks to the mother chemically to establish, maintain and terminate pregnancy.
Some people don't understand how alligators can shed light on human health until he shows a slide he has of similarities of the genetic mechanisms in the sexual organs in the two species, he said.

"I see wildlife as sentinels for human health and for their own health. I have this mantra that if the environment is healthy for them, it's healthy for us and vice versa. We have to link this stuff together."
Lab without walls

That linking is getting easier, thanks to the technological advances of the past five years that have enabled the genetics world to explode. Research that used to take a year, now can be done in a week, said Guillette.

The major laboratory facilities at HML provide a perfect environment for collaborative, multi-disciplinary work. He's already getting queries from other organizations, such as NOAA, which already is established at HML.

A proponent of large mentoring programs, Guillette plans to develop an environmental reproductive biology group. "I think we have the potential to be the primary group for environmental health and reproductive health," he said, adding that he wants physicians in multiple disciplines to be a component of that group. "Physicians aren't trained in this field. If we can get some of the younger faculty to begin to appreciate how important this environmental component is to the practice of medicine, then I think we'll not only change things, but we'll put MUSC on the map in a different way."

Guillette is bringing with him his belief in having a laboratory without walls. For the past 10 years, he has collaborated with colleagues from such places as Japan, South Africa and Mexico, running projects together and doing real-time experiments.

"If you're going to be a scientist in the 21st century, you have to think globally. You have to be enculturated. You have to understand your colleagues and their culture. You have to let young people meet and talk and interact. That's a really important thing for me."

He believes the main legacy that researchers give to science is the people they leave behind.

"Granted, the work you do is critical, but what is more important is building this cadre of people, and one of the fun things I saw here was colleagues and physicians who have this vision that environment in health is important," he said. "You have to have leaders who are willing to take a risk—basically put their money where their mouth is. And you have to have people who are willing to take a risk, in other words, get out of their comfort zones. Are we willing to get out of our comfort zones and create something bigger?

"For me, that's the fun part."
Friday, Sept. 10, 2010