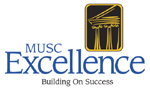 Medical Center
'Making a diffrence every day'





Pediatric Emergency Department to receive Excellence in Patient Care Award



The Pediatric Emergency Department will receive the Excellence in Patient Care Award at the What's Right in Health Care Conference in Dallas on Oct. 20.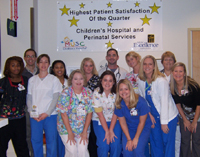 The Pediatric Emergency Department has provided top ranked service to its patients and families while increasing the number of patients seen, reducing rates for patients discharged against medical advice, and departures without treatment.

The conference, sponsored by the Studer Group Inc., highlights best practices of organizations from across the nation that are achieving exceptional results.olarships to Kristin Anne Smith and Michael Stefanik. December's proceeds will be used to fund a recruitment scholarship to a future student who will begin classes this fall.



A thank you letter from a parent, patient



I wanted to sincerely thank the Pediatric Emergency Room. They are absolutely wonderful with children.

A few nights ago my 5-year-old son, Holden, fell on a wet bathroom floor and split his chin. We went to the Pediatric Emergency Room because we wanted to get good care. Good care is a complete understatement.

He was so scared he would not walk in the emergency room from the street. He cried on the sidewalk outside of the revolving doors and hid by the column. But once inside the Pediatric ER waiting room with the TV, toys and friendly atmosphere, he began to calm down. The triage nurse made him even more relaxed as she took his vital signs. He was placed in a room where Dr. King and Dr. Larson examined him in a way that did not bother him at all. He was calm and having fun by now. Then when Megan from child life came in to the room I began to worry we were not going to get him back home because he was having so much fun getting his laceration repaired. He received topical anesthesia from a nurse without any trouble at all and then was repaired in the least invasive manner possible. The only problem was that during the repair he started laughing, which made it a little tougher to do, but Dr. Larson and Dr. King stayed focused.

The coordinated effort by the entire team to improve his experience made his trip to the emergency room phenomenal. One person could have spoiled this, but no one ever did.

We sincerely thank you all,


Ron, Angie, Ethan, Holden and Brennan Tuefel






Friday, Sept. 17, 2010

The Catalyst Online is published weekly by the MUSC Office of Public Relations for the faculty, employees and students of the Medical University of South Carolina. The Catalyst Online editor, Kim Draughn, can be reached at 792-4107 or by email, catalyst@musc.edu. Editorial copy can be submitted to The Catalyst Online and to The Catalyst in print by fax, 792-6723, or by email to catalyst@musc.edu. To place an ad in The Catalyst hardcopy, call Island Publications at 849-1778, ext. 201.