STOP Sports Injuries Campaign protects children




By Dawn Brazell




Public Relations


All anyone has to do to experience how far the world of sports has evolved is to tune into one of the multiple, all-sports channels.

Another not so fun indicator is the dramatic rise in the number of children in doctors' offices and emergency rooms for sports injuries. MUSC orthopaedist David Geier, M.D., said he's amazed at how big of a problem it has become and how more children are having to undergo surgery for sports and overuse injuries. It's one reason he's excited that the STOP (Sports Trauma and Overuse Prevention) Sports Injuries Campaign gained traction during the summer.

"It's getting a lot of media exposure because it highlights a problem most people don't realize exists. Most people don't think of sports as potentially harmful to a kid, but they can be when parents, doctors and coaches fail to take the overuse issues seriously.

It's just baffling about how common and how big of a problem it is."

For example, it used to be unheard of a decade ago for an athlete, other than a professional major league baseball pitcher, to undergo the Tommy John surgery (ulnar collateral ligament reconstruction) for an overuse injury. That procedure has skyrocketed in high school athletes in the last decade, he said.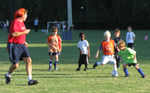 Children practice on soccer fields in West Ashley as the fall season gears up. Sports provide healthy benefits for children when parents, coaches and health professionals take the proper precautions.
Cautioning for a need of balance, Geier said sports seem to be evolving as the primary focus in many young athletes' lives. Citing from the work of Alvin Rosenfeld, M.D., a psychiatrist specializing in adolescents, Geier said structured sports time has doubled during the last 20 years, while in that same time, family dinners have been cut by one third, and family vacations have decreased 28 percent.

Along the same lines, the National Athletic Trainers' Association (NATA) has calculated that a young athlete spends an average of 326 hours of practice time under the supervision of a coach during one season, often far exceeding the amount spent with teachers.

Geier said the volume of training performed by many of these young athletes is increasing faster than their growing bodies are able to handle it. He serves on the American Orthopaedic Society for Sports Medicine (AOSSM), one of numerous sports groups supporting the mission of the STOP Campaign.

According to the AOSSM, more than 3.5 million children, aged 14 and younger, are treated for sports injuries each year, and nearly half of the injuries suffered by middle- and high-school athletes are overuse injuries. Surgeons are seeing four times as many overuse injuries in youth sports compared to five years ago. For those coaches and parents who believe that their children or players won't be affected, the NATA has shown that girls involved in organized sports have an estimated injury rate of 20 to 22 per 100 participants per season, while boys have a risk of 39 per 100 participants per season.

Geier said it can be hard to put the statistics in context given the growth in obesity rates from children who are too inactive. The best way to look at it is that it's really two different patient populations, he said.

The good news is that an estimated one-half of the injuries involve overuse issues and can be prevented with the right education for parents, coaches and doctors. His main advice is for parents and coaches to take any kind of sports pain seriously.

"If their shoulder hurts, if their knee hurts, don't blow if off and say 'no pain, no gain.' Adhere to ways to not focus on winning so much, but on making it fun—working on mechanics and the techniques. Stop the specialization of sports at such an early age, like 8 or 9, where kids only do one sport. That's a new phenomenon."

Younger children can't handle the same stresses on their bodies that older children can, he said. They need to rest in between days of hard practice and to cross train so they're not stressing the same joints repeatedly. How much is too much depends on the age of a child and the sport, he said.

Raising awareness requires changing attitudes, which can be difficult with the increasing exposure and money pouring into sports, fueling dreams of children becoming pro-athletes.

The goal is to help children focus on the game, good techniques, and having fun. That keeps them in the game for life, he said.

"The younger youth athletes have to have surgery, the less likely they are to progress in their sport. It's likely to end their sports career."

As far as advice to physicians, Geier recommends erring on the side of caution.

"Don't be afraid to shut a kid down for four weeks or six weeks or a season. They need not to be afraid to do that, especially for young ages."



Did You Know?



By age 13, 70 percent of kids drop out of youth sports. The top three reasons: adults, coaches and parents.
STOP Sports Injuries


The campaign has a Web site (http://www.stopsportsinjuries.org) that details what coaches, parents and health professionals can do to prevent and treat injuries. There are tips that can be downloaded with guidelines for a multitude of sports from cheerleading to baseball. There's also a health care provider's resources section with a tip sheet on how to talk to parents and athletes about sports injuries.
Friday, Sept. 17, 2010

The Catalyst Online is published weekly by the MUSC Office of Public Relations for the faculty, employees and students of the Medical University of South Carolina. The Catalyst Online editor, Kim Draughn, can be reached at 792-4107 or by email, catalyst@musc.edu. Editorial copy can be submitted to The Catalyst Online and to The Catalyst in print by fax, 792-6723, or by email to catalyst@musc.edu. To place an ad in The Catalyst hardcopy, call Island Publications at 849-1778, ext. 201.