Faculty members honored at convocation


MUSC faculty members honored their peers Aug. 24 at the annual Faculty Convocation.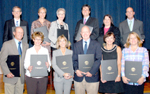 Faculty members honored at the convocation Aug. 24 are bottom row from left Drs. Robert Sade, Carol Sherman, Rochelle Hanson, Robert Malcolm Jr., Kathlenn Brady and Ruth Stockdell Conner. Top row from left are Drs. Michael Kern, Carola Neumann, Elaine Amella, Christopher Parsons, Sarah Shrader, and Julio Chalela.



Wofford College President Benjamin Dunlap, Ph.D., was the keynote speaker at the event. Formerly on the faculties of Harvard University and the University of South Carolina, he has been Wofford's president since 2000. Wofford has been cited as one of the nation's top liberal arts colleges by US News & World Report, the Princeton Review and other publications.

MUSC's honorees were divided into four categories: distinguished faculty service; outstanding clinician; developing scholar and teaching excellence.



Distinguished faculty service



Kathleen Brady, M.D., Ph.D., is director of the department's Clinical Neurosciences Division and among the university's leaders in obtaining research funding for her field of interest, substance abuse and addiction. She is the principal investigator and director for one of only 11 national centers for research on sex and gender factors affecting women's health. She is the assistant dean for clinical research and director of the General Clinical Research Center. She is a past recipient of the Betty Ford award for her contributions to research on substance abuse in women. She has been honored as South Carolina Woman of the Year and this year was named MUSC Distinguished University Professor. She is the current president of the American Academy of Addiction Psychiatry.
Robert Malcolm Jr., M.D., has been a member, vice chair or chair of the Institutional Review Board for Human Research for 25 years. From 2007 until this summer, in addition to his teaching, clinical and research obligations, he served as director of the MUSC Office of Research Integrity. He has devoted much of his professional life to the study of the body's addiction to narcotics and other substances, and has been recognized nationally as an authority on the subject. In 1974, he, along with several other individuals, founded what is now the MUSC Weight Management Center, placing this institution among the first medical schools to address an issue that is now deemed a public health concern.
Robert Sade, M.D., is the founder of MUSC's Division of Pediatric Surgery, and served in many capacities throughout the university, including assistant dean and associate dean for the College of Medicine, medical director of the surgical and pediatric cardiology intensive care units and medical director of Medical University Hospital. He currently chairs the Thomas Pitts Memorial Lectureship, directs the Institute of Human Values in Health Care, chairs the hospital's Organ and Tissue Donation Committee and directs the Research Ethics Core of the S.C. Clinical and Translational Research Institute. He also is medical director for Lifepoint, formerly known as the South Carolina Organ Procurement Agency.
Outstanding clinician
Carol Sherman, M.D., is medical director of the Hollings Cancer Center and an expert in the management of lung cancer and associate chief for clinical affairs in the Division of Hematology-Oncology. She came to MUSC in 1997. "If, one day, I were to develop lung cancer, I would seek Dr. Sherman as my oncologist," a colleague said. "If asked, I would also recommend her to a family member or a friend."
Julio Chalela, M.D., is the only fellowship-trained neurointensivist to direct a neuro-intensive care unit in South Carolina. Colleagues said he was instrumental in elevating the stroke service and related units, such as the Brain Attack Team and the REACH (remote evaluation of acute ischemic stroke) consult program. He also has been praised for his work with students, residents, fellows and staff at all levels, as well as his devotion to his patients.
Sarah Shrader, Pharm.D., joined the faculty in 2006 and began distinguishing herself in a number of areas, especially patient care. She dedicates more than nine months per year in patient care activities, including service in the Family Medicine Clinic and the Family Medicine Inpatient Service, both of which involve extra effort participating in Family Medicine on-call obligations. She also has made visits to patient homes when necessary to provide care or to counsel on medications and has volunteered to provide vital pharmacy services to the student-operated CARES (Community Aid, Relief, Education and Support) clinic.
Developing scholar
Carola Neumann, M.D., a native of Germany, received her medical education and initial training in her home country and Switzerland before continuing her training at some of America's premier academic medical institutions such as Harvard, Boston, Tufts and Brown universities. In 2005, she was recruited to the Medical University of South Carolina and started her laboratory in the Hollings Cancer Center. Academically, her research is making important contributions helping to explain the roles of oxidative stress and redox signaling in cancer. This is an important field, as scientists have known for many years that most human tumors produce elevated levels of reactive oxygen species, often termed oxidative stress, but with very little understanding of the molecular details involved.
Christopher Parsons, M.D., already has made noteworthy additions to our understanding of Kaposi's sarcoma and its viral genesis. He was the first to demonstrate the preferential targeting of mesenchymal stem cells in human bone marrow by KSHV, for example. His work to date has led to prestigious Research Commendation from the Infectious Diseases Society of America by characterizing KSHV gene expression within hematopoietic cells in vivo. In the past year he published eight new papers, six of which he is the first or senior author. His work is more important now than ever before, as cancer has become one of the leading causes of HIV/AIDS-associated morbidity and mortality, and KSHV plays a prominent role in this area.

The Teaching Excellence award recipients, Ruth Stockdell Connor, R.N., Ph.D. (c); Michael Kern, Ph.D., Elaine Amella, Ph.D., R.N.; and Rochelle Hanson, Ph.D., were featured in the May 21 Catalyst when those awards were announced.
Friday, Sept. 3, 2010