Employees of the Month
Laurie Krafsig, Storm Eye Institute

"We had a patient come in on June 10, Mrs. Green, who lives a couple of hours away. She was here to see Dr. Chavis and was admitted to the hospital. Her husband left because he had to get back to meet their children, which then left Mrs. Green alone with no toiletries and nothing to sleep in. Laurie and I took the patient to the floor she was to be on since transportation was backed up. We took her to her nurse, said our good-byes and left. However, Laurie didn't leave it at that. She went home, fed her family and came back down to the hospital with pajamas and toiletries and stayed and talked to the patient for a while. I have seen Laurie in action before such as giving cab money to patients who don't have it, but this to me topped it off.
—Nominated by Cheri Mikell

DAISY Award
Cindy Stokes, R.N., Pediatric Hematology Oncology Unit


"I am nominating Cindy Stokes, R.N., for the Daisy Award at the request of her teammates in the pediatric hematology oncology unit. Cindy cared for Ryan, a teenager whose chemotherapy treatments were no longer working. She was his primary nurse for the past four years. Cindy used her positive relationship with the family to support them through this difficult period, while helping them create some long-term family memories. The family decided to take a final family vacation to Hawaii, but had limited time organizing plans. Cindy got involved and wrote a letter to the airlines advocating for a better flight. Upon the family's return, Ryan arrived home in tremendous pain. She sought the help from fellow nurses so that she could remain Ryan's support nurse. A plan of care was devised and the expert skills of Cindy and participating nurses were called upon to meet Ryan's unique pain needs. Because Hospice was unable to obtain Ryan's pain medications (There is no pediatric hospice services in Charleston). Cindy was able to obtain them through MUSC pharmacy. Throughout all of this, Ryan's trust and friendship with Cindy grew, allowing her to talk and relate with Ryan about his condition and impending death outside of the hospital. Cindy's trust and opinion also extended to Ryan's family as they sought her guidance in other issues including the planning of Ryan's funeral. She remained with the family even after Ryan's death, again providing an additional level of care and support. Cindy demonstrates the highest level of clinical skills, expert nursing and coordinated care. Additionally, she possesses a gift to effectively communicate especially during stressful and sensitive situations and turn them into positive memories and experiences."
—Nominated by Rosemarie Battaglia

Physician of the Month
Andre Hebra, M.D., Pediatrics Department of Surgery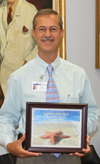 "My baby, Dylan, was taken to MUSC from Roper St. Francis on a late Saturday night. The following morning, Dr. Andre Hebra came in to greet me after I was released from St. Francis. Dr. Hebra was in the Level II nursery on his day off with jeans on, and was there to receive me upon arrival. The first words out of his mouth, after his introduction, were that he would take excellent care of Dylan, and me too. I love that man. He saved our son's life, and today, we have a gorgeous 19-month-old son, and we couldn't be happier. Dr. Hebra will forever be our guardian angel in our lives, as well as Dylan's life."
—Nominated by Kristyn Brinker

September Benefit of the Month
Medical Spending
It permits eligible employees to pay for many out- of-pocket medical expenses with pretax dollars–federal, state and FICA.

Medical expenses include dental, vision, medical insurance and prescription drug copays and deductibles, and experimental treatments that are medically necessary.

In October, employees estimate their anticipated expenses for 2011 and sign up to have that amount deducted from their paycheck throughout the year. Claims are then submitted to reimbursement through a state contracted vendor—FBMC.

For questions, call 792-8108 or 792-9320.

September Standard of the Month
Be Punctual for meetings and Appointments

Friday, Sept. 3, 2010