MUSC pledges to be more energy efficient


MUSC and other state institutions are major consumers of energy and natural resources.

It is the university's responsibility to be resourceful and follow sustainable practices according Caroline Davila of Engineering and Facilities. To do this, MUSC is committed to conserving natural resources by reducing the use of non-renewable resources and increasing energy efficiency.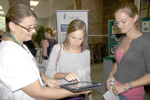 Caroline Davila assists College of Graduate Studies students Amy Young and Raquela Thomas in signing the MUSC Student Sustainability Pledge Aug. 23. Students can sign the digital pledge at

http://tinyurl.com/349dcef

.



In the coming months, MUSC will adopt economic practices in the areas of event planning, alternative transportation, recycling and disposal programs, energy and water conservation, purchasing and other areas. This commitment is part of a collaborative effort led by MUSC's Division of Education and Student Life and supported by campuswide departments, offices, colleges, student groups, employees and visitors.

"MUSC is committed to creating a sustainable educational environment and the Sustainability Guidelines were developed to raise awareness of how each student contributes to MUSC's carbon footprint, as well as to educate students on how we can increase our efforts to conserve resources," said Erin Pardue, MUSC Student Government Association vice president.

In helping to meet MUSC's potential, students are encouraged to take an MUSC Sustainability Pledge, which commits them to support efforts adopted for sustainability within the MUSC community.



Student guidelines for sustainability


As one of the signatories of the American College and University Presidents' Climate Commitment, MUSC recognizes the importance of promoting sustainability of the environment. It is the ultimate goal of MUSC to utilize natural resources to meet our current needs while protecting and conserving these resources to meet the needs of future generations.

Students, as members of the MUSC community, can collectively make a significant difference in the utilization of natural resources; and, it is MUSC's intent to reaffirm the institution's commitment to sustainability by presenting the following guidelines to assist students in identifying ways they can contribute in a positive way to the future environment of MUSC and on a larger scale, the world:

Reduce the environmental impact of MUSC events by assessing the impact of the event and by following the MUSC Sustainability Event Guidelines (e.g., coordinating with a local food bank to donate left-over food, utilizing biodegradable containers and paperless advertising);
Dispose of toxic wastes (e.g., batteries, motor oil) according to the EPA recommendations to minimize negative environmental impact;
Purchase energy efficient products (e.g., Energy Star appliances, computers, home improvements);
MUSC faculty and staff support students in their efforts to meet the above guidelines. It is important to recognize that these efforts are not intended to decrease the quality or quantity of students' educational experiences, but rather to provide a healthier educational environment.

By embracing these guidelines, MUSC will continue in a leadership role, setting an example for other universities, and our state and local communities to emulate.

Friday, Sept. 3, 2010

The Catalyst Online is published weekly by the MUSC Office of Public Relations for the faculty, employees and students of the Medical University of South Carolina. The Catalyst Online editor, Kim Draughn, can be reached at 792-4107 or by email, catalyst@musc.edu. Editorial copy can be submitted to The Catalyst Online and to The Catalyst in print by fax, 792-6723, or by email to catalyst@musc.edu. To place an ad in The Catalyst hardcopy, call Island Publications at 849-1778, ext. 201.