Cardiologist's motto: Walk the walk




by Dawn Brazell




Public Relations


When the alarm goes off at 5 a.m., it's hard for cardiologist Marian Taylor to roll out of a warm bed for a frosty morning run. Then she remembers she'll be counseling her cardiac rehabilitation patients, so her feet hit the floor.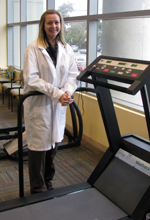 Dr. Marian Taylor



"I try to walk the walk. I think it's really difficult to sit down and talk to a patient about lifestyle changes when you're not doing the lifestyle changes."

On her clinic days, she wears her pedometer, just like she recommends to her patients. The device is a reminder to be active, since getting fewer than 5,000 steps a day puts a person into the sedentary category.

"My women invariably tell me that they're moving—oh they're active. They're standing at the sink and walking up and down the stairs. When they get that pedometer, they are always surprised that they are only getting 3,800 steps or so. They're always pretty amazed that they're not doing more."

She tells patients to put it on first thing in the morning and wear it all day. They need to check it when they get home.

"If at the end of the day, you don't have a minimum of 5,000 steps, then you need to get out and hoof it until you do. You need to aim for 10,000 steps a day and studies show if you average 10,000 steps, you will lose weight."

One of Taylor's passions in life is raising awareness, especially since she knows the statistics about heart disease and women—that it claims ten times more women than breast cancer and that it's claiming them at even younger ages than before. More than one in three female adults has some form of cardiovascular disease (CVD). Since 1984, the number of CVD deaths for females has exceeded those for males.

One solution in helping patients is to give them concrete ideas about making lifestyle changes, such as setting up a support system. For example, she has a friend waiting on her in the morning, who will be really mad if she doesn't show up, she said, smiling. Working out with a friend is a powerful tool to stay motivated.

Another trick is to carefully plan for the time in one's schedule. She knows she has to exercise first thing in the morning because she's too tired by the end of the day. Other people find it easier to include time to walk during their lunch. Taylor encourages people to take any opportunity they can to be active, whether it's working out during commercials or parking farther away at stores.

An important component in preventing heart disease is managing stress, which has been shown to contribute to heart disease for women. Women with CVD who are anxious and depressed have poorer outcomes, she said. MUSC's Cardiac Rehabilitation does a screening for depression for its patients and gives them guidelines on managing stress and anxiety.

Taylor likes to see patients become empowered. She knows what is store for them otherwise. When diagnosed with heart disease, 50 percent of women will be disabled within a year, she said.

"There's more morbidity with women as well. Women tend to wait longer. They put it on the back burner taking care of others. Often times, symptoms in women are atypical. They think they have reflux and what they have is actually angina. They aren't diagnosed as early as men. Heart disease is thought of more frequently in men and is evaluated quicker."

MUSC partners with the American Heart Association's Go Red campaign that was created in 2004 to fight the myths surrounding heart disease and raise awareness that CVD is the number one killer of women. Taylor's glad to see MUSC taking a leadership role.

"I think it's more education, not only for lay people and patients, but within the medical community—the primary care physicians, the internists, the ob-gyns. The Go Red Campaign has really helped to get the word out."

Discussing lifestyle changes can be a hard sell, especially with patients having chronic, medical conditions such as arthritis and back pain. Some of those conditions are related to obesity, though, she said. "Sometimes I think we don't push patients to exercise because of their multiple complaints. I always say exercise should be the fifth vital sign because we rarely ask about exercise. We don't take time to discuss the importance of exercise."

She also takes a hard tack with weight.

"I've started using the F word with my patients. Fat. Men don't mind, but women don't like to hear they're fat. When you tell a woman she's fat, she hears that. In some women, it spurs them to do something about it. Diabetes, hypertension, hyperlipidemia—all of the diseases that contribute to heart and vascular disease —are largely preventable. Exercise is the one thing that you can do every day in some form that will have such an incredibly positive impact on your life."

As far as her own fitness plan, Taylor likes to run downtown or on a treadmill during bad weather. She walks her dog, which is a good thing, since studies show 46 percent of pets are overweight because they're not getting enough walking. Her exercise program boosts her energy and mood, relieves stress and gives her more mental focus. Even knowing that, there are mornings she still has to push herself, she admits.

"In order to really impact patients' lives, you have to live the life that you're trying to get your patients to live. They have to be able to look at you and say, 'you're finding time to live the life, and if you are then I should be able to find the time to do it, too.'"



Taylor's top 10 tips



Get more active. Use a pedometer that requires a stride length for accurate measurement. Aim for 10,000 steps a day.
Get 30 minutes of activity daily, preferably an hour.
Avoid going through drive-through windows.
Allow food splurges occasionally, but make yourself earn them.
Know that stress has been shown to contribute to heart disease for women, so take steps to deal with it. Try a yoga class.
Take advantage of social connections and find people you work with or a next door neighbor to take a walk with you.
Identify your obstacles. Taylor said she has found many older women are intimidated by the gym. She encourages them to start walking instead.
Get over the caretaker trap. Women need to move more and be intentional about taking care of themselves to better be able to care for their loved ones.
Find ways to put movement into odd moments during the day. Eat your lunch for 20 minutes and then get out and hoof it for the rest of the time, she said.
Friday, Jan. 14, 2011

The Catalyst Online is published weekly by the MUSC Office of Public Relations for the faculty, employees and students of the Medical University of South Carolina. The Catalyst Online editor, Kim Draughn, can be reached at 792-4107 or by email, catalyst@musc.edu. Editorial copy can be submitted to The Catalyst Online and to The Catalyst in print by fax, 792-6723, or by email to catalyst@musc.edu. To place an ad in The Catalyst hardcopy, call Island Publications at 849-1778, ext. 201.