by Susan L. Johnson




Public Relations


I have to admit, I've never really had a weight problem. Part of that is being blessed with skinny genes; the other is a passion for physical fitness that began in childhood. I grew up in the country and spent my days hiking through the woods, biking miles of country roads and just being an active kid with lots of room to run.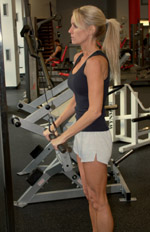 Dr. Susan Johnson performs weight training at the MUSC Wellness Center.



As a teenager, I became involved in more organized activities such as cheerleading, track and competitive horse riding. It wasn't until my freshman year in college after gaining 5-10 pounds from too much pizza and beer that I actually had to work at losing weight. That experience sparked an interest in health promotion; I wanted to teach others how to overcome challenges and barriers to a healthy and physically active lifestyle. I am very fortunate in my current position to have this opportunity to raise awareness about health and provide motivation to enhance the quality of life for the MUSC community.



My 5 tips



Plan ahead. What is the number one reason people give for not exercising? Not enough time. I suggest planning workouts and meals ahead of time to avoid the inevitable excuses such as "I'm too tired" or "I don't have time to cook so I'll just hit the drive-through." As a single, working mom I can tell you that if it's not on my schedule, it doesn't get done, so make exercise and eating healthy a priority every day.
Mindfulness of thoughts. The mind and body are very closely connected and much of what we do is determined by what we think. I can't recall where I heard the phrase "What You Think About You Bring About," but I believe it to be true and try to focus my thoughts on positive health behaviors.
Portion control. I believe that moderation gives us freedom. What I mean by that is if we don't go overboard on any one thing—we can pretty much eat what we want. The key is how much and how often. If you love Krispy Kreme doughnuts—allow yourself to indulge, but limit how much (one donut) and how often (every other Wednesday). When eating out, try ordering half plates, appetizer portions or share an entree. If it's in front of us and it tastes good, we will usually eat it, and end up eating too much. So eat less and enjoy more.
Move more. Another phrase that is one to live by is "A body in motion stays in motion, a body at rest stays at rest" (or a rolling stone gathers no moss—or fat). I've read somewhere that skinny people can't sit still. Even if they are sitting they are fidgeting, tapping their feet, and ultimately burning calories. It can be so tempting to crash on the couch with the remote after dinner, but once that happens it's very difficult to get back up. Consider this—the average person burns about 75 calories per hour sitting on the couch, versus 120 playing with the dog, 210 loading the dishwasher, or 150 going for a walk.
Manage stress. Okay, so there is no way to avoid stress, it's a part of life. Unfortunately, the most common "stress-relievers" are not usually healthy. Recognizing our habits and behaviors is the first step in changing them. The second step is finding a healthier substitution that can still serve as a coping mechanism for stress.
My current workout routine is based on two activities that I enjoy—running and weight training. I am fortunate to have a membership at the MUSC Wellness Center and enjoy daily runs on the indoor track. I find that the floor is great for reducing risk for injury and joint pain, and I can't use bad weather as an excuse. I try to run between three and five miles, five days a week with a longer six-to-nine mile run on weekends when I can fit it in. If I'm planning to do a race, my training changes to allow for more frequent, longer runs. I usually try to do my weight training after running, and because of time constraints will break up my workouts into a split routine, doing upper and lower body workouts on alternating days.




Friday, Jan. 14, 2011