Amy Horwitz, Ph.D., assistant professor in the Department of Otolaryngology, rides her bike to work and shares her thoughts about the bike accessibility issue at MUSC:

How far is the commute?
Three-plus miles each way, from Magnolia Road in West Ashley to Walton Research Building (Sabin Street). I ride Highway 17 to 61 over the Ashley River on the southbound bridge because it has wider sidewalks. Then Lockwood Boulevard to Calhoun Street to Jonathan Lucas to Sabin.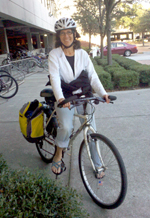 Dr. Amy Horwitz bikes to work Monday through Friday.

Why do you bike to work?
The fantastic views and smells that I'd miss in a car, especially along the marsh and river, the changing colors of marsh grass with the seasons; scurrying crabs; heron, egret, ibis intent on fishing; pelicans flying in formation; occasional otter or dolphin playing in the river... The fresh air and exercise, sometimes the only opportunity of my mostly sedentary work days. The minimal expense — maintaining a bike is so cheap compared to even just the gas and parking costs of driving, not to mention other car-related expenses. Time and convenience: both biking and driving take about 30 minutes, door-to-door. The time on the bike is a pleasure; the time in the car is stressful — traffic, parking, carrying my stuff from the parking lot to my office vs. parking my bike right outside my building and carrying my stuff a short distance. When looking for a home to buy, a good bike commute to MUSC was a major consideration. The friendliness of other bikers and walkers who I encounter during my commutes contrasted with the impersonal or stressed drivers I see when I'm in the car.

Do you have any concerns about biking to work?
Both the design of many Charleston roads as well as the awareness of many drivers are not conducive to bicycles safely sharing roads with cars. Minor concern — limited availability of bike parking spaces that are safe, convenient, and sheltered from the rain. My bike chain gets rusty.

What is available to address those concerns?
A number of bike advocacy groups are working on the first concern. Perhaps as driving cars becomes more expensive, more people will find alternatives such as car-pooling, public transport, biking, etc. Regarding minor concern of parking: Including more sheltered bike parking where feasible around campus would be great.

In May, a survey was conducted to investigate commuting issues at MUSC. The majority of respondents, 82.2 percent, travel five or more miles to work, with 75.2 percent driving and 9 percent taking a bus. Most respondents would not consider riding a bike to work because of lack of changing facilities, inadequate parking, lack of bike lanes, crossing the Ashley River, the distance being too great and the need for more flexibility. Providng additional comments, the majority of the 380 respondents offered suggestions related to CARTA, parking challenges and biking issues. Respondents included safety as a barrier to biking to work.

The MUSC Mobility Task Force is working to create a community that has bike accessibility, both at MUSC and in the surrounding areas to increase commuting options and promote active lifestyles to employees and the community. To become involved, contact Susan Johnson at johnsusa@musc.edu.