By Dawn Brazell
Public Relations

Mother Kristella Ham said she didn't like the news André Hebra, M.D., had to deliver about her premature twin son. The bad news she learned was that one out of three babies wouldn't last 48 hours with what her son, Khamani Makell, faced.

He was premature, had short bowel syndrome, nectrotizing entercolitis and at one point was close to death in the NICU on a do-not-resuscitate order. But then he started doing better. Hebra, who believes in never giving up when there's a sign of hope, continued in the fight performing nine of the multiple surgeries that Khamani would need. One of the surgeries removed 90 percent of his intestines.

On Oct. 18, Khamani, 3, will be in for a checkup. He has only slight development delays and loves to
play basketball.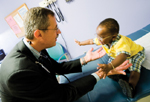 Dr. André Hebra with "miracle" patient Khamani Makell.

"He's a miracle baby," she said, adding that Hebra's an excellent doctor.

She's not the only one to think so. Hebra became the first person to hold the H. Biemann Othersen Jr., M.D. Endowed Chair in Pediatric Surgery Sept. 29 at a ceremony in the historic Rice Mill Building.

David Cole, M.D., Rose Professor and chairman of the Department of Surgery, said it is a fitting tribute that Hebra is the one to first hold the Othersen Chair. Their paths first intersected 25 years ago when Hebra was a medical student at MUSC and subsequently conducted his residency training in general surgery. Othersen then was a member of the faculty in pediatric surgery and guided Hebra through his internship in pediatric surgery and beyond.

"The Othersen Chair was created three years ago in honor of South Carolina's first pediatric surgeon and one of the state's most revered physicians and gentleman," Cole said. "Biemann Othersen has touched the lives of literally thousands of children and their families. In his more than 50-year association with MUSC, few have made a more significant impact on patients, faculty, staff and students."

Cole said the endowed chair serves as a permanent tribute to Othersen's compassion and skill as a surgeon, along with his many contributions to his profession and community.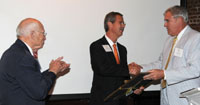 Dr. H. Biemann Othersen applauds as Dr. Andrea Hebra, center receives his award from Dr. David Cole.

Hebra took the occasion to share some of the giants in his life, including the "super giant" Othersen. "If it wasn't for him, this endowed chair would not exist and I would not be standing here today. Probably everyone in this room knows of the numerous and amazing accomplishments of his professional life. What you should also know is that his hard work and dedication has allowed the Department of Surgery and the Division of Pediatric Surgery to pull together financial resources that made this endowed chair a reality."

Hebra went on to name other giants that made this moment possible, including his patients and their families.
"I have always admired the courage of parents that must deal with sick children who undergo surgery, and I am amazed at the resilience of children when it comes to surgery and disease.

"The most important lessons I have learned from my patients are: To appreciate how lucky my family and I are and to never give up. I am not sure that I could endure the emotional stress that comes with having a sick child. The patients and their parents are the giants of my daily life in the operating room and in the hospital."
Patient's story lends ceremony touching moment

Editor's Note: The following is an excerpt from a speech given Sept. 29 by Dana Rothschild celebrating André Hebra becoming the first person to hold the H. Biemann Othersen Jr., M.D., Endowed Chair in Pediatric Surgery.

Forty years ago, at the age of 4, I was diagnosed with a neuroblastoma and I was blessed to have the best pediatric surgeon in the country operating on me for almost 21 hours, for the first time. Dr. Bee, as I and others call him, is such an extraordinary human being and physician and has been a consultant and comforter for practically every crisis, procedure and surgery I have had since.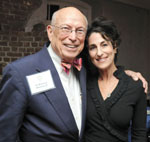 Dr. H. Biemann Othersen with Dana Rothschild.

I have a story to share with you. It is my story, written by my mother, Faye Seigel, but it is the story of thousands of parents and children who face the journey of hope, fear, recovery and renewal. It begins in her words:

"The wide double doors opened. I looked down the aisle framed with unfamiliar faces. Everyone was standing and looking toward us. The applause began as a faint rhythmic sound and then exploded into a thunderous roar. I looked down at my 9-year-old daughter and she gazed up at me. With one hand in mine and the other in her father's, we began walking down the aisle and with each step forward, my mind took me back—back to the months and years that had brought us to this moment of triumph.

When you hear the words, 'Your daughter has cancer' the life you had a few days ago is transformed into a nightmare. Radiation and chemotherapy began immediately in hopes the tumor would shrink before surgery. It had engulfed her kidneys, aorta and intestines. We were referred to Dr. Bee who became the invaluable source for information and expertise and provided the constant reassurance and patience when we asked over and over, 'Will she be OK? Will she survive?'

Dana's operation was scheduled for Feb. 18, 1972. Her father, Jerry Rothschild and I held her hands as she was wheeled down the corridor. She looked up at us with the trust of a 4-year-old. We had been told that the operation would prolong her life, but there were no guarantees of long-term survival. The elevator doors closed and we were left to endure 21 hours of endless waiting. At last it was over and she was taken to intensive care where she would remain for six weeks, and we would endure another five months of life-and-death complications and many more surgeries.
Her tiny frame was emaciated because she wasn't allowed to eat or drink, and tubes entered every orifice. When she was able, we put her in a big red wagon with all her machines and took her out into the corridors. Her father would take the night shift. I would be by her side during the day. Finally, Dr. Bee encouraged us to get some help for the evening and we were blessed to have a dear woman named Peggy. She made little hospital gowns for her with her name embroidered on the front and crocheted colorful afghans for her. One night, she appeared with a small brown paper bag, and inside was a black bundle of curly fur, a poodle that weighed less than a pound. For the first time in months, we saw life come back into Dana's eyes and she smiled and reached out to touch him.

After weaning Dana off the machines and letting her wounds heal, Dr. Bee gave us the news we had waited six months long to hear, 'Dana, you can go home today and take all your toys with you.'
The sound of our names brought me back to the crowded room we had entered. We reached the podium and learned that her miraculous story had just been told to the audience who were participating in an American Cancer Society conference on childhood cancer. That night, we attended a football game. The announcer said 'This football game is dedicated to all the children who have waged the war against cancer.' As he spoke, our eyes turned toward the scoreboard. In flashing lights it read: The Winner: Dana Rothschild."

Yes, I am so grateful to be a winner with a wonderful husband, two beautiful children and a career I love as a pediatric occupational therapist.

Dr. Bee because of your skill, relentless commitment as well as the other physicians and nurses at MUSC, I thank you from the bottom of my heart.
Biography: André Hebra
André Hebra, M.D., began his medical education with a pre-med and Doctor of Medicine at FUABC University in Sao Paulo, Brazil. He obtained a second medical degree in 1987 from MUSC where he also completed his residency in general surgery.
It was during this time he formed an interest in minimal access surgery and given an opportunity to be a part of the early development of laparoscopic surgical techniques. During his residency he completed a two-year research fellowship at the University of Pennsylvania and completed a fellowship in pediatric surgery at the Children's Hospital of Philadelphia. He became board certified in general surgery, surgical critical care and pediatric surgery.

In 1995, he returned to MUSC as assistant professor in the Department of Surgery and in 1999 was promoted to associate professor.

In 2002, Hebra was recruited to director of the Minimally Invasive Pediatric Surgery Program and chief of surgery at All Children's Hospital in St. Petersburg, Fla. Hebra returned to MUSC in 2007 as the chief of the Division of Pediatric Surgery and chief of surgery of MUSC Children's Hospital.

Hebra has been responsible for the restructuring of the pediatric surgical services and development of the pediatric surgical and anesthesia specialty group. His expertise in minimally invasive surgery has brought MUSC Children's Hospital to a new level of recognition. His study of pectus excavatum and carinatum was a critical contribution to the hospital's designation as a center of excellence. Because of his experience with laparoscopic and robotic surgery, he was also responsible for initiating the da Vinci robotic surgical program at MUSC.

Hebra and his wife, Jennifer, have two children, Alex (13) and André (11), and live on Johns Island.