Department
Physician Assistant Studies, College of Health Professions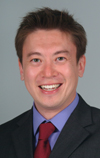 How long have you been at MUSC
Almost 5 years
Dream job
Flying a Boeing 757 for a major airline

Biggest pet peeve
Drivers who don't realize the left lane is designed for passing

Favorite TV station
HGTV

Favorite hobby
Learning about commercial aviation. I'm an avid commercial aviation enthusiast!
Pets
Cooper and Cooper. I had Cooper (a white German sheppard) and my friend had to give up her dog who happened to be named Cooper (a whippet/hound mix)..

How would you spend $1 million
Buy a new home

A must-have in the pantry
Chips Ahoy cookies

Dream job
Flying a Boeing 757 for a major airline
Best thing about living in Charleston
The great food. My favorite restaurant in Charleston is Peninsula Grill.
Dream vacation
Cruising the Caribbean waters with good friends and an adult beverage

Friday, Oct. 14, 2011