By Dawn Brazell
Public Relations

At 7 a.m. here, it's noon in England, 4:30 p.m. in India and 7 p.m. in Singapore.

Thomas Hulsey, Sc.D., rattles off the times. Arranging a Skype session among the different locales is a feat, but one he's adept in handling as assistant dean for global educational programs in the College of Graduate Studies.

"Everybody is able to visit at the same time. It's a challenge. They can all see the questions and hear the answers, and they get to benefit from what's going on in other campuses."

Hulsey, who has come a long way from his Colleton County farming roots, travels globally as he guides the success of MUSC's Master of Science in Clinical Research (MSCR) global program. The program now boasts four locations of study in addition to MUSC and has an 85-student enrollment this fall.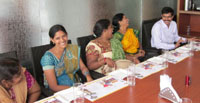 Faculty at the Institute of Clinical Research India in Hyderabad.

Students in the Institute of Clinical Research India (ICRI) may choose London, Singapore, Deharadun and Hyderabad in India or MUSC as their main campus for study. There's also a collaboration with the Drum Tower Hospital in Nanjing, China, that sends students to MUSC, and the MSCR program is negotiating with a sixth location: the Zhejiang Hospital in Hangzhou, China.

"The exciting thing is we've done this with no advertising, no Web page and no brochure. We wanted to go with this very carefully and make sure we had all the right approvals and that we were geared for this kind of global delivery."

For Hulsey that meant making sure the technology team was on board; the curriculum content was modified for distance delivery; and the Skype system adapted for all locations just to name a few of the logistic hurdles. The faculty was challenged to come up with new ways to deliver curriculum, test students and give exams. Students are required to speak English.

Of the 85 students accepted, there will be 10 to 15 students who will be coming to MUSC to study, he said. "As we start to advertise and start to build momentum, I think the demand for this is limitless at this point. We live in an ever shrinking world. I can be in Delhi in 14 hours by plane. The world marketplace for health care is getting incredibly close. We don't live in a vacuum anymore."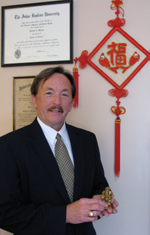 Dr. Thomas Hulsey, left, with a wall hanging that was a gift from Chinese students signifying good luck and blessings. He's holding an image of Ganesha, the Hindu God of Success, a gift from an Indian student.

Medical trends including medical tourism and drug development encourage cross-fertilization across diverse cultures and specialties, he said. Beyond the possibilities for advancing medicine, more diversity in medical education encourages cultural sensitivity, an added benefit in delivering quality health care.

Hulsey said the MSCR program was originally developed around the needs of the MUSC family to enhance the ability of clinical researchers. The 38-hour credit program has since expanded to be more than just that.

"It challenges us to think of new ways and new materials to make our content fresh — to make our content not only match what's needed in the domestic marketplace from what our NIH guidelines are but what's going to be in the global marketplace as we look to pharmaceutical industries and public-private partnerships with everybody else who's involved in this whole health arena."

Impressed by what students bring to the table during discussions, Hulsey said the classes benefit not only from the diversity of students' cultural perspectives but also from the wide range of medical specialty areas that are represented. He has no doubt the program will continue to grow, given the enthusiastic support of central administration and faculty, who have opportunities to travel to other countries and collaborate in campus environments that they are not used to, he said.

There also is a domestic marketplace for the MSCR program from smaller universities not able to provide this kind of training on site. The technology and abilities of distance learning changes how and what students can learn in the comfort of their own small communities, he said.

One advantage of the MSCR program is that academically it is a part of CGS and administratively it is part of the South Carolina Clinical and Translational Institute, so it has access to the resources of both groups. The program specifically was designed to avoid a one-person-at-a-time degree.

"We're heading to closer collaboration. We're building partnerships. Every place we go is building a partnership with the campus, or the hospital or another university so we can build with them using the MCSR. We have great collaborations that have taken place with our physician researchers now that we have individuals going to these hospitals and universities spending time doing research. It's opening the door to entire global collaboration."

For information, email Hulsey at hulseytc@musc.edu or visit the MSCR website at http://tinyurl.com/3uc68zu.