By Dawn Brazell
Public Relations

Cynde Brown sits tall, flipping back a strand of auburn hair.

"There's no shame to my game," she said. She just described her recent double mastectomy and reconstruction involving one of the latest plastic surgery techniques called DIEP or deep inferior epigastric artery perforator flap. The procedure uses the fat and skin from the lower abdominal area to reconstruct the breasts by connecting the blood vessels from the abdomen to the blood vessels in the chest wall.

She pats her flat stomach. "You can still wear the sexy stuff. You don't let what the world thinks of you define your own image. Your breasts do not define you. You are defined by yourself – your personality, your soul. Take control of your life. Don't sit there and wait and be a victim. If you can prevent it, take the most steps you can to prevent – whatever it may be."

Spoken as the spunky survivor that she is, Brown's first troubles started at age 6 when she was diagnosed with autoimmune hepatitis. As a result her liver failed, and she received a liver transplant at MUSC at age 31 in 1998, just a year after having lost her mother. Still reeling from her losses, Brown hoped that other than her routine checkups, she was done with her surgeries.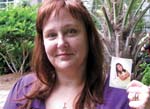 Cynde Brown's daughter, shown in the photo in her hand, is one of her main motivators in getting the information she needs about all the latest treatments of breast cancer to make the right decisions.

Unfortunately in 2005, her sister was diagnosed with metastatic breast cancer. Brown eventually got her sister's pathology reports and sought genetic testing in 2008, finding that she also tested positive for the BRCA 1 mutation. Harmful mutations in these genes produce a hereditary breast-ovarian cancer syndrome. As a preventative measure, Brown had both ovaries removed.

In 2010 an MRI revealed she had two masses in her left breast so she decided, given her BRCA 1 status and being immune suppressed for life as a transplant patient, to opt for a double mastectomy with immediate reconstruction done on the same day at MUSC. The masses turned out to be benign, but Brown said it was the right decision because having the gene meant it was only a matter of time.
Dr. Dennis Schimpf, left, Department of Surgery, performs a breast reconstruction. The Division of Plastic Surgery completes more than 400 breast reconstruction cases per year. Microvascular breast reconstruction cases (such as DIEP) comprise more than 100 of the breast reconstructions that are completed each year. For information on breast reconstruction, visit http://www.breastreconstructionofcharleston.com.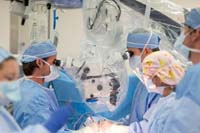 There was a time not so long ago when Brown wouldn't have had so many options.

With advances in genetic testing and reconstruction procedures, including the availability of 3-D nipple tattooing, breast cancer survivors can take more proactive stances. Making those choices helps her feel empowered, a critical element for someone who has spent as much time in hospitals as she has, she said. She believes in doing her research and is intent on keeping a good attitude.

"It comes from my mother, and it comes from faith. Just knowing that I can't change what's going to happen, the best thing I can do is deal with it the best way that I can. Who wants to be around someone who's complaining all the time? I don't. Be happy. Be glad for every day you have."

Destination Center
One advantage that made Brown decide to get her mastectomy, other than being strongly encouraged by her various doctors, was that she could get the mastectomy and reconstruction done in the same day. That was a deal maker for her. David Cole, M.D., Rose Professor and chairman of the Department of Surgery, handled her double mastectomy and plastic surgeon Dennis Schimpf, M.D., did her DIEP reconstruction.

Schimpf said the goal is to make life simpler for women with breast cancer, so Hollings Cancer Center (HCC) tries to offer a complete package to patients. He's pleased how MUSC's HCC, which holds a National Cancer Institute (NCI) designation, is growing to be a destination center for breast reconstruction.

HCC has a high-risk breast program that includes genetic testing and counseling and a comprehensive array of surgical options. The Division of Plastic Surgery offers the entire range of breast reconstruction procedures from traditional, implant-based reconstruction, to the most advanced perforator-based (DIEP) forms of reconstruction that are available today, he said.

"We have a tremendous amount of experience in breast reconstruction secondary to our large volume of cases. We also tend to do the more difficult cases on the more high risk or difficult patients and often times are the last hope for women who have had difficulties with previous reconstructions or who have been turned down by other centers."

Schimpf helped bring Renee Maschinot onto the team. The medical tattoo artist travels from Florida to MUSC every other month to offer areola and 3-D nipple tattoos.

"Plastic surgery offers the opportunity to impact both the appearance and the function of patients by operating on all areas of the body in patients of all ages. As a result of being a part of the only NCI cancer center in South Carolina, we can offer patients access to the highest level of cancer care, breast reconstruction and support services, such as nutrition, physical therapy, counseling and survivorship groups."

The approach is to have a multidisciplinary team working together to treat the physical and emotional needs of each patient.

"We treat each patient as an individual and make recommendations and schedule appointments to accommodate each patient's comfort and convenience. Our program is designed to centralize all outpatient breast cancer/reconstruction services in one location so that patients do not have to travel to multiple locations for appointments. We strive to anticipate and address the needs of our patients."

Being Well-Informed
For Brown, that is crucial. She has to travel 150 miles from Latta, outside of Florence, to get here. Brown said her health is worth the drive, but she's glad to combine as many appointments as she can when she comes.

Having had so many medical issues, she has learned how to best navigate the health care system. She advises patients to engage their health care providers and do their research on all the options now available, especially for women with or at high risk for breast cancer.

"This will ensure that they have all of the knowledge necessary to make a well- informed decision."
Brown holds up a picture of her 5-year-old daughter – one of her motivations in being as well-informed as she could. She wants to be around to see her grow up. Sometimes people ask her if she made the right decision to have her breasts removed before cancer struck.

"I think I did the right thing. I feel very confident in my decision. It is a drastic step. But with that genetic testing, it is not a matter of if you're going to get breast cancer. I know I'm going to. It's a matter of when. I chose not to wait for the when."
Studying her options for reconstruction was empowering as well.

"I was tickled by the fact it was going to be a breast reduction. I can wear cute bras and cute shirts. I am going to have a tummy tuck. I'm like, 'Lord, I haven't had a flat belly in years.'"

Brown chose the DIEP flap because it used her own tissue and will respond to her natural weight gain and losses. If she couldn't have it done, she's not sure if she would still have opted to have the double mastectomy.

Despite all her brave decisions, she knows there remains a small chance she still can get cancer. She relies on her strong Christian faith. Her goal is to show her daughter how to look at all the different options there are in life when a challenge arises and choose the path of not being a victim, she said.

"If I get breast cancer now, then so be it. That is just my destiny. I have done everything I physically can to prevent it. If I get it, then it's, 'OK, what are we going to do now?' What do you want to do and when can you do it?"
Breast Reconstruction
As a destination center for breast reconstruction, MUSC is offering the latest in services and procedures, including the DIEP flap breast reconstruction (deep inferior epigastric perforator flap). It is one of the most advanced forms of breast reconstruction offered that relocates excess tissue from one area of the body. Donor sites for flap reconstruction often include the abdomen, buttocks, thigh, or back. The decision as to which type of flap to have is based on many factors including: the amount of tissue available at the donor site and the breast size desired by the patient, placement of scars, and the patient's surgical history.

Visit http://www.breastreconstructionofcharleston.com for information on MUSC's Advanced Breast Reconstuction Program.
Renee Maschinot's story as an areola and 3-D nipple tattoo artist.