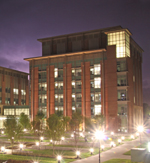 Imagine trying to put a puzzle together with the pieces in different rooms.

Now consider how much faster the process would be if the pieces were brought together first. That's the analogy used by Charles Smith, Ph.D., the Charles and Carol Cooper Endowed Chair in Pharmacy and SmartState Endowed Chair to explain the significance of MUSC's 114,000-square-foot Drug Discovery Building.

Holder of many patents, he was recruited to MUSC from Penn State University to direct the Drug Discovery Core. Smith is an expert in high throughput screening. He designs drugs to fight cancer by unlocking molecular mechanisms important for preventing tumor growth. Smith believes the building, which bundles research labs together, will heighten creative collaboration and productivity.

"The building will help integrate the process of drug discovery and development. Proximity helps to generate collaboration, and the building brings together multiple disciplines," said Smith.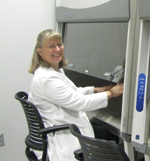 Dr. Donna S. Harrison, associate professor in SCCP, loves the lab funded by CVS.

This coordination is essential, given the lengthy process of drug discovery.

For example, it takes more than $800 million and 15 years to bring a new drug to market, and fewer are making it despite advances in understanding diseases processes.

Private industry, driven by investors' need for larger returns on guaranteed winners, has increasingly turned to lifecycle management of existing products rather than early-stage discovery. This opens up an opportunity for academic researchers to drive the early, more innovative steps in drug discovery. Nevertheless, academic institutions often lack the resources and infrastructure needed to conduct high-risk, high-reward drug discovery research that could lead to the next breakthrough.

Despite this intimidating environment for discovery, business and educational leaders in South Carolina point to biomedical research as a potential economic powerhouse for the state. Enter the Drug Discovery Building, part of the
James E. Clyburn Research Center, as a way to fill the gap.

The building is situated on the MUSC campus, but the scientists within it represent direct collaboration among MUSC, Clemson University and the University of South Carolina, as well as existing and new partnerships with the private sector.

Rick Schnellmann, Ph.D., chair of the Department of Pharmaceutical and Biomedical Sciences at the South Carolina College of Pharmacy (SCCP), believes that innovative drug discovery has to be a collaborative process.

"The most effective way to move from academic research to an FDA-approved product that can help a patient is through partnerships between the academic and private sectors," said Schnellmann.

"On our end, we need the right basic scientists in place to drive the research to the point that will appeal to private industry for further development, which will get the drugs patients need into the market," added Schnellmann.

The Drug Discovery Building plays a big part in getting the right basic scientists in place. The state's investment in the Centers of Economic Excellence, designed to draw the nation's top scientists to the state as SmartState Endowed Chairs, is paying off in part because of the promise MUSC's investment in drug discovery represented for candidates.

Patrick Woster, Ph.D., is a prime example. Woster, a SmartState Endowed Chair in Drug Discovery and Professor of Pharmaceutical and Biomedical Sciences, arrived in 2011 bringing a much-needed specialization to the drug discovery process.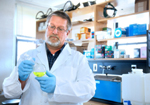 Dr. Patrick Woster is an expert in medicinal chemistry.

"I was drawn to my position by the reputation of MUSC as an emerging power in biomedical research, and by the numerous opportunities to conduct collaborative research aimed at the discovery and development of new therapeutic agents," said Woster.

There are several cores and research foci represented in the new building, which will take advantage of the pooled expertise in drug discovery and state-of-the-art technologies.

In many ways, Smith and Andrew Kraft, M.D., director of Hollings Cancer Center (HCC) and Dr. William H. Folk Chair in Experimental Oncology, exemplify what the new Drug Discovery Building makes possible. Kraft is a medical oncologist and nationally recognized researcher who led HCC to become a National Cancer Institute-designated cancer center.

HCC is just one of 66 in the U.S., and the only center in South Carolina, to hold that designation from the National Cancer Institute. This distinction is awarded to centers conducting the most advanced research and clinical trials.

Smith and Kraft collaborated on research into inhibitors of Pim protein kinases, which play a role in the development of T-cell lymphomas and prostate cancer. They screened a library of 50,000 chemicals for novel Pim-1 inhibitors, identifying compounds that effectively inhibit the kinase, which could lead to novel anticancer drugs. The potential impact of this discovery on patients is significant. Very few compounds have been identified as Pim inhibitors, and those that have are poorly selective, leading to non-specific toxicity and lack of clinical utility.

Drug discovery is one mechanism for economic development. High tech, medically-focused technology is increasingly important as we try to develop safer and more effective drugs for many diseases. Building many new small companies to create a biotech cluster in Charleston could have a significant economic impact.