By Cindy Abole
Public Relations

In addition to computer science students Edward Pharr and Chad Freeman attending lectures to learn the latest about software engineering processes, the interns also are spending time outside of the classroom working at MUSC.

Since June, these College of Charleston (CofC) students have been busy translating knowledge and theory in the classroom. They will then apply it toward finding real-world computer solutions to hospital computer network systems and projects. Together, they're learning how to collaborate with end users and develop best practices to help MUSC achieve its information technology strategies.

The effort is part of a partnership established between MUSC's Office of the Chief Information Officer (OCIO) and CofC's Computer Science Department. The collaboration will allow students and staff to share knowledge and experiences between the institutions, according to Frank Clark, Ph.D., vice president for information technology and chief information officer.

Pharr and Freeman began working full-time in June and will continue to work part-time during the academic year as part of a yearlong paid internship experience.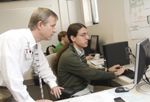 OCIO IT Enterprise Architecture director Mark Daniels, left, confers with computer science intern Chad Freeman as Edward Pharr works in the background.

"This program allows senior-level computer science students the chance to match their classroom-based knowledge of programming and theory with valuable workplace experience. It's a win-win effort for both the students and our institutions," said Clark. Both students will work on projects that support policies and practices associated with the National Health Information Network that ensures the exchange of secure health information using the Internet.

According to the college's Discovery Informatics Program director and department chair Christopher Starr, Ph.D., the department works with 68 industry partners, including MUSC, to sponsor student interns. CofC's Computing in the Arts degree program has catalyzed the establishment of a partnership with MUSC to provide a way to increase the college's engagement in collaborative software projects for the public and market.

According to Starr, MUSC as a partner has been valuable for students because of the applications of computer science in medicine as well as research and clinical projects that include software development.

"We view MUSC as a creative partner, ready to participate with us in research, invention and now entrepreneurship in medical software markets. MUSC also has highly-skilled software developers on staff that mentor our students, validating what they learn at CofC and adding new value."

Both students work under the direction of internship mentor Mark Daniels, OCIO director of Enterprise Information Technology (IT) Architecture. Daniels and his team initiated technical training and orientation to health care IT. They focused on helping the students understand the complexities of building and managing organizational technology infrastructures within the state's only academic medical center. Later, each was assigned to work with a project resulting in the design, execution and documentation of a workplace solution.

Freeman was assigned to work on a web portal application project that would allow referring physicians to access to computer information and electronic medical records that is encounter-specific. The goal was to do this without creating a new application that must be installed on the remote computer and that can be accessed using mobile devices.
Pharr, a graduate student, was assigned to upgrade a physician-resident communications hands-off project that focused on allowing residents to leave notes for each other using mobile devices. The previous version would use simple files for storage and had synchronization issues when multiple physicians made changes simultaneously. This project resulted in Pharr exploring how information was stored.

Transitioning theories and experiences from classroom to workplace has been both easy and challenging, according to Freeman. "At MUSC, we're focusing on creating products and programs that people can use. We're dedicated to analyzing, making adjustments and testing things so it can work better. It's different than a professor teaching it in the classroom using a step-by-step process."

The experience has been positive for both students. Before starting the internship, neither student had seriously considered a career in medical or health care IT. Today, they find it a fast-paced and ever-changing environment driven by medicine's production of cutting-edge products, devices and methods. The students also enjoy the continuous, open collaboration between physicians, clinicians and technical staff.

Both Freeman and Pharr would consider this experience as a possible long-term career.

Freeman said what he has enjoyed is the ability to create, design and test applicable products. "I can't say how much more accomplished I feel as a developer and programmer than what I've experienced in the past three months. MUSC is a great environment to be part of where people of different skills are dedicated to helping patients feel better and finding solutions that positively affect their health outcomes."