By Boobalan Pachaiyappan, Ph.D.
Pharmaceutical, Biomedical Sciences

Maintaining longevity is as much an art as a science. Drugs taken to treat the physical and chemical imbalance of the body often end up being futile, with side-effects or a plethora of other complications.

In the post-Genomic world that is filled with numerous disease conditions, advanced medical methods, ultra-sharp instruments and skilled physicians, the Siddha system of medicine that still is practiced in the South of India almost has eluded attention.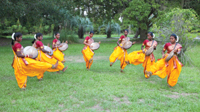 Sakthi dancers from India perform Thappattam, a type of dance while playing Parai, a percussion instrument. The dancers performed at the FeTNA (Federation of Tamil Sangams in North America) Convention at the Gaillard Auditorium, July 2 - 4.

Siddha medicine, which dates back several thousand years before the Common Era (or A.D.), also is 'a perfect medicine' and involves application of products obtained from plants, animals and inorganic substances (metals and minerals) to treat almost all ailments with minimum or no side effects. Siddha medicine has stood the test of time and made impressive contributions to global health using indigenous resources.

The word, Siddha (or Siddhars in Tamil), refers to someone who attained Siddhi or extraordinary powers. In the present context, Siddha refers to 18 prominent ancient supernatural saints who achieved extraordinary psychic powers through years of fasting and meditation. The roots of this Siddha medicine are intertwined with the ancient Tamil civilization. Originally compiled in palm leaves in the form of short complex Tamil poems, the system of Siddha medicine has been a closely guarded secret that eventually has been made public. Siddha medicine also encompasses yoga and Varma (proper application of releasing stagnant energy from vital points) therapy in order to promote healing.

Only by keeping the body healthy can one keep a soul healthy. At least this is what the Siddhars believed. They also believed that the factors that control the human body (microcosm) are nothing but the manifestations of the five macroscopic elements (Iynkurukal or Panja Bhutas) that control the universe (macrocosm), namely earth, water, air, fire and ether.

The Siddha system of medicine recognizes the synergistic role played by seven physical constituents (plasma, blood, muscles, fatty tissues, bones, nerves, both male and female hormones) and three life force factors (air, bile and phlegm) to maintain a healthy state. An imbalance in the equilibrium state of these 10 factors due to diet, physical activity, stress and environmental (cosmic) factors would result in disease conditions. In the Siddha system of medicine, enormous emphasis has been given to diagnostic methods in order to identify the disease condition before prescribing a cure. These are called eight-fold diagnostic methods (En Vagai Thervu), which are based on inspection of tongue, color, voice, eyes, touch, stool, urine and pulse. A staunch practitioner of Siddha medicine can unambiguously identify the disease condition based on these inspection methods. For example, the Siddha system of medicine unambiguously diagnosed jaundice by analyzing pulse at the radial artery, inspection of a yellow pigmentation in the white of the eyes and early morning saffron-colored urine, and prescribes Phylanthus Niruri (Kizhanelli) for a side-effect free cure.

Another interesting point to note about the Siddha medicines is that they can be administered in both disease conditions (for recuperation) as well as to health conditions (prevention). A few simple Siddha-based remedies are listed below:
--The twigs of neem and banyan trees are used for cleaning teeth. The seeds and leaves of neem (Vepam) have antiseptic, antiviral, anti-inflammatory, hypotensive and anti-ulcer effects.
--Recent viral fevers in Tamilnadu that were incurable with conventional antiviral drugs were successfully controlled using extracts from neem and other medicinal plants (Nilavembu Kudineer).
--Fenugreek (Venthiyam) soaked in water and taken with yogurt cures chronic diarrhea and mucous dysentery.

If there is one concept that the Siddha medicine reiterates, it is this simple premise: "Food is medicine." Siddha medicine infused medicinal plants into traditional cooking and formulated a regimen for consumers in order to maintain the holistic balance of the human body. It benefits everyone to know and take advantage of the Siddha medicine that stands the test of time.
Tamil Nadu Facts
Capital: Chennai, formerly known as Madras. Tamil Nadu, India's cultural capital was formerly known as Madras State and is located in southeast India, consisting of 30 districts.
Language: Tamil is the official language of Tamil Nadu (as well as one of the official of several hundred languages of India).
Festival: Pongal is the most celebrated four-day harvest festival of Tamil Nadu, followed in importance by Diwali.
Landmark: Thiruvalluvar statue is a 133 feet tall stone sculpture of the Tamil poet and saint Tiruvalluvar, author of the Thirukkural. It is located atop a small island near the town of Kanyakumari, where two seas and an ocean meet: the Bay of Bengal, the Arabian Sea and the Indian Ocean. The statue standing on the pedestal represents wealth and pleasure, signifying that wealth and love be earned and enjoyed on the foundation of solid virtue.
Area: 130,058 sq km or 50,216 sq miles
Industries: The city of Tirupur is the largest garment exporter in India; Chennai is known as the Detroit of India because of its automotive industry.
Clinician's corner
Clinician's corner
A 12-year-old Indian female comes in with shortness of breath for the past two days. Her past medical history is only notable for fever with sore throat she had four weeks ago.

During her period of illness, she had swelling of both knees, then later her ankles, but that has resolved. She also noted nodular swelling on her back and elbow. But they have resolved too. She only took Tylenol for it as her mother thought this was a viral infection.

On exam, she had significant wheezing and the doctor said that she has 'murmurs' and ordered an echo. Based on this history, what is the most likely diagnosis of the patient's illness?
A. Summer Flu
B. Malaria
C. Rheumatic Fever
D. Typhoid

Correct Answer :C. Rheumatic Fever

This patient clearly suffered from Rheumatic fever and now has rheumatic heart disease. Rheumatic fever (RF) is a systemic illness that may occur following group A beta hemolytic streptococcal (GABHS) pharyngitis in children. Rheumatic fever and its most serious complication, rheumatic heart disease (RHD), are believed to result from an autoimmune response; however, the exact pathogenesis remains unclear.