By Cindy Abole
Public Relations

Her story starts with a simple, engraved bracelet—a trinket from her teenage years reflecting a different time and place.

On it was the name and date of someone Anita Feliciano, an administrative assistant in the Division of Neonatology, didn't know. But that rare link, just like the metal band, was unknowingly well-forged between two people more than 40 years ago.

Feliciano grew up in a military family. As a teenager living in Germany in the early 1970s, she purchased and wore two POW/MIA bracelets and often reflected on the men of the names inscribed. One was Lt. Michael T. Burns, who was declared missing on July 5, 1968. The other bracelet was that of Capt. Jon T. Busch and the date, June 8, 1967. It was at the height of the Vietnam War and she, as were many others, was affected by the nation's struggle about America's presence in this unpopular conflict.

Following the fall of Saigon and the war's end in April 1975, Feliciano put the bracelet aside for safekeeping — never forgetting its significance and its symbolism in commemorating the servicemen missing or dead. She continued on with her life, serving in the U.S. Air Force and raising a son to understand the significance of these bracelets.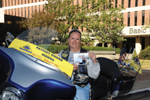 Anita Feliciano holds a picture of herself and Lt. Michael T. Burns following their Oct. 13 lunch in Florida. Feliciano gave Burns a bracelet with his name that she purchased more than 40 years ago.

She joined the South Carolina Chapter of the Patriot Guard Riders, part of a national group of motorcyclists whose mission is to protect and honor fallen American heroes, including military members, firefighters, police officers and first responders. The group provides escort rides during funerals, offers support during deployment ceremonies and veteran's activities and assists as honor guards at the invitation of the deceased individual's family.

Feliciano didn't realize how her interaction and involvement during funerals with this group would lead her to want to learn more about the military's Joint Prisoner of War POW/MIA Accounting Command. The command is responsible for investigating, excavating and identifying the remains of all POW/MIAs. She checked with a couple of websites (Virtualwall.org and pownetwork.org) and learned that Busch's remains were positively identified and returned to his Ohio family in 1988. What surprised her was reading that Burns was alive and living in Sarasota, Fla.

Almost immediately she began composing a heartfelt letter to Burns. In it she introduced the story of her bracelets and how each one touched and affected her during that time and the years that followed. She mailed the letter asking for his permission to present the bracelet to him, and waited for a response.

On Oct. 13, Feliciano got a chance to meet the bracelet's owner in Florida. She and Burns, who is now a lawyer, met for a three-hour lunch at one of Sarasota's Gulfside marinas. It was an incredible and emotional meeting for them both, said Feliciano. They talked about many things and experienced a comfort and rapport with each other almost immediately. "We both knew and respected where each of us had come from."

And at the right moment, she presented Burns with her bracelet — in her eyes, always the rightful owner. Additionally, she gave him Bush's bracelet and presented him with a letter, a Patriot Guard "Standing for Those who Stood for Us, Mission Accomplished" pin and commemorative Rolling Thunder, "Freedom Isn't Free" pin.

Feliciano's son, who is currently working in Afghanistan, reminded her that if one does not understand history, then they can't change the future. She now advocates for the support and recognition of the country's servicemen and servicewomen. "Let us not forget those men and women before us and encourage those serving now and in the future; let us never forget those who can never return home and help those home that can go home; let us never forget our current war POWs and that they too will come home soon; and finally make sure that our nation takes care of our past and current wounded warriors — their war will never end."