Melvyn Berlinsky, whose 40-year tenure on MUSC's board of trustees spanned its ascent from a state university hospital to a leading national academic health sciences center, died Nov. 4.
Berlinsky had been the board's lay representative from the 1st Congressional District since 1971. He was the board's vice chair from 1990 to 1994. He served as a member of the research committee, the hospital and patient care committee, and as chair of the education, faculty, and student affairs committee. He also served as the trustees' representative to the Hollings Cancer Center board.

Several university leaders credited Berlinsky with helping to spur the institution's rapid growth dating back to the 1980s.

"When I became president of MUSC in 1982, Melvyn was on the board of trustees and was someone I looked to for guidance and advice," said President Emeritus James B. Edwards, DMD. "In addition to our professional relationship, he was a close personal friend as well. He took great pride in his affiliation with MUSC, and, judging by its unprecedented growth during his tenure on the board, he did everything within his power to make it one of the nation's leading academic medical centers. "His 40 years as a board member provided a steadying influence as we sought to provide the people of South Carolina a place where they could not only receive compassionate, competent health care, but also a place where breakthroughs in biomedical science could become commonplace," Edwards said.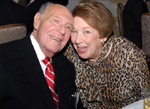 Melvyn Berlinsky and his wife, Joan, at a recent function.

MUSC President Ray Greenberg, M.D., Ph.D., said Berlinsky's devotion to MUSC was such that he was a constant presence on campus. "He loved the institution and attended virtually every public event, and even maintained an office on campus so that he could be close to what was happening here on a day-to-day basis," Greenberg said. "He was known and highly regarded by faculty, students, and staff across campus and will be missed deeply by all. "Melvyn and his wife, Joan, adopted my wife, Leah, and me when we arrived in Charleston," Greenberg added. "His family always treated us as if we were part of their own."

Layton McCurdy, M.D., College of Medicine Dean Emeritus and Distinguished University Professor, knew Berlinsky for 43 years and said he could always count on his support. "He was dedicated and always available to help in difficult situations," McCurdy said. "I will always remember his kind and thoughtful manner."

Retired U.S. Sen. Ernest F. Hollings, for whom MUSC's cancer center is named, said he was one of the finest civic leaders he has ever known. "He had such a love for the medical university. He was always there troubleshooting any problems and involved in the development of a lot of the projects they had going on."
Melvyn Berlinsky (third from left) at the 2008 groundbreaking of the Clyburn center.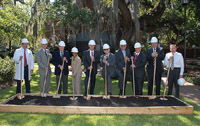 Larry Mohr, M.D., professor of medicine, said Berlinsky was an exemplary public servant, who devoted almost half of life to transforming MUSC into the nationally prominent health sciences institution that it is today.

"His main focus was always to improve the lives of the people who make our university what it is: students, faculty members, staff members and patients. He knew that people were the heart and soul of our university and providing them with an environment to excel was the most important factor in its growth"

A devoted husband, father and grandfather, Berlinsky also was a wonderful friend, Mohr added. "He will be missed, but his memory will live in my heart forever."

Surviving are his wife, Joan, his children, Bruce, Fred and Shelli, and Lee and Claire; grandchildren, Harris, Drew, Tyler, Alex, Ryan and Niki. Berlinsky was born Dec. 9, 1926. Funeral services were held at Synagogue Emanuel Cemetery (Maryville), on Nov. 6. In lieu of flowers, donations may be made to MUSC Foundation — Melvyn Berlinsky Fund.