Who?
Receiving an honor usually firefighters are granted, Sheila Prynkiewicz, R.N., in the MUSC Pediatric Emergency Department, was chosen to go to the International Association of Firefighters (IAFF) Burn Foundation International Burn Camp in Washington, D.C. the week of Sept. 24. Prynkiewicz, who puts her heart and soul into her work at MUSC, said the patients in her department are motivating.

"These children inspire me to be a better version of myself, especially after conversations about their everyday life. They constantly have to cope with daily adversities such as people staring at them in public, surgeries, body image, school, peer acceptance and dating."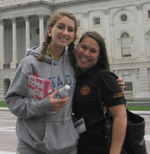 Registered nurse Sheila Prynkiewicz, right, and Camp 'Can' Do camper Hannah Patenaude in Washington, D.C.
What?
In Washington, Prynkiewicz represented MUSC Children's Hospital and S.C. Firefighters' Burned Children Fund's Camp 'Can' Do, an annual five-day camp for children and teens who have suffered a severe burn injury. Each year, Jill Evans, R.N., coordinator of Camp 'Can' Do, nominates one counselor and one camper to attend the IAFF event. Pyrnkiewicz was the first non-firefighter volunteer chosen.

The IAFF camp is an all-expense-paid experience that incorporates historical and cultural activities in the Washington, D.C. area. This year, Prynkiewicz and Hannah Patenaude, a camper from Mount Pleasant, visited the Lincoln Memorial and the Capitol building, had lunch at the House of Representatives and got VIP treatment at a Washington Nationals baseball game. They also met with South Carolina state representatives who lobby for fire safety laws.
Most Memorable Experience
Prynkiewicz said that her favorite moment at the IAFF camp happened while having lunch at the Naval Academy. Prynkiewicz said that when one of the Naval Academy high-ranking officers welcomed the campers to lunch, he told them he knew he was surrounded by the best of the best.

"He told every camper that he would be honored to have any of them attend the Naval Academy. He told them that if they were interested in attending, then they needed to see him after lunch."
Lessons Learned
There are many things from the IAFF camp that Prynkiewicz plans to share with the staff at Camp 'Can' Do. She wants to incorporate most of the songs and campfire activities used by IAFF. She also wants to hold similar peer sessions as those she sat in on. Prynkiewicz says that, ideally, she wouldn't have to choose which IAFF ideas to borrow.

"The IAFF camp changes you. It makes you want to take that entire experience to the staff and children at Camp 'Can' Do."
Why She was Chosen?
Evans, who also is coordinator of Pediatric Burn Services in the MUSC Children's Hospital, said Prynkiewicz was the obvious choice for this honor.

"Over the years, Sheila has brought her fun- loving spirit and hard work to Camp 'Can' Do, focusing on making the experience a great one for all the campers. We were proud to have Sheila represent us at the international camp."