By Dawn Brazell
Public Relations
The Rev. Lynn Conklin strikes fear into the hearts of some of the patients she visits. They're not exactly sure why she has come to visit. They fear it's a sign of imminent death.

She's quick to assure them otherwise.

"I tell them, 'I'm not coming in to prod or probe. I don't stick needles, and I don't take blood pressure.' I try to put people at ease."

When she comes across employees in the hallways who apologize for perhaps some colorful language that they may have used, she puts them at ease as well. "You know what? I was a human – still am — before I became a chaplain. And if you whisper, God doesn't hear you."

That generally gets a laugh when they figure out she's teasing. Laughter's good for the soul, as are the honest, sincere talks that Conklin and the other chaplains are on call to provide 24/7, 365 days of the year.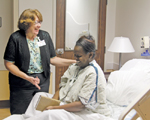 Rev. Lynn Conklin gets a laugh from patient Latoshaj Fludd, who's awaiting the birth of her baby.

Conklin is part of MUSC's Pastoral Care staff, which includes eight full-time and six part-time chaplains. Eighteen years ago, there were only four chaplains and they served a limited role, she said. Fortunately, that's no longer the case as chaplains now are in high demand at all kinds of events from providing comfort at times of tragedy and illness to offering blessings for some of life's sweeter moments.

Each year during pastoral care week in October, the chaplains continue educating staff and patients about the ways they can serve. Conklin said she loves how the hospital community is her congregation. The Ravenel native loves the diverse backgrounds and beliefs she encounters daily.

"I'm a Southern Baptist ordained woman, so I don't mind breaking the mold."

The other challenge she doesn't mind facing routinely is dealing with the devastation and aftereffects of grief. Often couching her service in nautical terms, Conklin said she is a safe place for people to express their feelings. "I think a safe harbor is what is needed, where they can come, and I can be an anchor," she said. "Everything that they had is gone. They were talking to their family member, and now they are gone. Sometimes the grief is so overwhelming, it sweeps them under."

Conklin has been at MUSC for nine years. Some days are worse than others. Some people just want a ministry of presence. Others want spiritual counsel.

"I come to be with people on the most difficult and dreary of days – the most solemn of days. They don't know me, and I don't know them, but I'm there. I call it holy ground that I'm standing on. I learn more from the patient's family than I present to them sometimes, but it's that moment of connection that says this is the mystery of God."
In seminary, Conklin found she felt comfortable talking about death and dying and grief. It's one way she knew serving as a chaplain was the right field for her.

She focuses on the healing part of grief that she can facilitate, knowing that sometimes she'll just have a five-minute window to be with a patient or family member.

"I like to embrace the people who are grieving and educate them and let them know they can be whole again, and they can feel comfort. As far as why God allowed this to happen to me is the age-old question that never gets answers, but I encourage people to ask that question. I give them permission to question their faith."

Her goal is to impart coping skills and some type of normalcy, allowing them to understand the resources that are available. That includes hospital employees as well, some of whom may be reluctant to use services they feel are just for patients. That's not the case, and she encourages staff to reach out during times of crisis. She had an employee tell her that her mother died a month ago, but she hadn't been able to get over it. "I told her 'you're not supposed to be over it,' and she seemed relieved. So in a three-second encounter, I did the education to say there was no timeline on grief."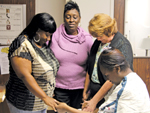 Rev. Conklin takes a moment to pray with a family before a delivery. Conklin said she loves to be involved with celebrations.

One of the least favorite parts of the job is not having continuity for follow-up care. Sometimes she will hear back from some patients. One of those is Toni A. Pitts, whose husband was very sick and waiting for a liver transplant. Unfortunately, Pitts lost her husband, but Conklin struck up a friendship with her that has lasted and includes updates on births of grandchildren.

Pitts said Conklin was one of the people she met at MUSC who blessed their lives beyond measure. "I believe that God puts people in our lives when we need them, and she was there for Ray, me and our family."

That kind of connection makes Conklin smile. Grief is a journey that varies with the person. "You have to find your way through it. That chapter in those people's lives has not been written. I think the worst way is to shut down and close out everyone in your life. A good way of healing is to continue talking about your family member who died — to remember them on a daily basis. The grieving person doesn't want to burden anyone, but they shouldn't feel guilty for remembering."

Conklin doesn't pretend to have all the answers.

"I'm challenged a lot with questions of 'what are we doing?' and 'how did we get here?' It's not your basic Sunday school class anymore. It has allowed me to spread my wings of growth and perspective. God is a mystery and that sacredness of not having the answers is OK. That gift of sitting with someone and offering presence is what's needed."

On the tougher, sadder days, she has to take a breather with a hot tea, a walk or a talk with another chaplain. "If it's a really, really bad day, I just go to bed and call it a day. Or I call my husband, John, and ask where are you taking me to dinner today?" she said, smiling.

But then the next day, she's back on the hospital hallways, doing what she and the other chaplains do best – offering themselves up for anyone interested in matters of the soul. She never knows what window of opportunity will open, but she does know hospitals can serve as a crucible in people's spiritual journeys.

"People change either for the better or for the worse. They draw on their faith or they have to find new strength with something they are not really familiar with. I remind them that that same God that you were close to two weeks ago when things were going really well is the same faith and the same God who is holding you up now. You don't have to ask, 'help me.' God's already in place doing that."
5 Tips in Handling Holiday Grief
It's hard dealing with grief, but the holidays can make it even worse. Here are tips from MUSC chaplain Lynn Conklin about handling the holidays if you or a loved one faces a season of grief.
1. Give yourself extra TLC.
Be intentional about taking extra good care of yourself. That means eating well, getting adequate rest and doing comforting activities. It also means preparing for the unexpected and unusual, such as an outburst of crying or having to explain to someone again the loss in your life. It also means ignoring well-meaning, but hurtful comments that people may make.

2. Change the holiday routine.
Do things differently. When her father passed away, she decorated her tree in purple and teal. Changing the tradition from what it usually was helped her cope with a holiday that wasn't going to be the same with her father gone. She also encourages people to think about changing their routines to do something different.
3. Celebrate the loved one who has been lost.
Some families don't want to talk or reminisce about someone who has died but that can stall or block the grieving process. "Remember them. Call them by name. Allow family members to tell their stories."

4. Expect an ambush from the past.
Unresolved grief issues from previous losses, whether it be of a loved one, a divorce, financial losses, a pet's death or other issues involving sorrow, tend to resurface with a current loss. Know this is normal and allow yourself to process the emotions.

5. Create mementos.
Make a scrapbook or a special picture frame. Write in a journal or create a special memory candle. Do an activity the person would have liked. "Remind yourself that your loved one has not left your love. You need to be comforted by their presence of love."

Watch a video at http://bit.ly/MUSCHandling_Grief