Some employees think MUSC's Holiday Parade is just a cheery break in the day.

Though that's true, Elizabeth Nista, quality coordinator of MUSC's Blood & Marrow Transplant Program, knows it's so much more.

It's a way to salute the courage of the children and their families, such as Jesse Dasinger who is this year's parade marshal. Nista describes him as a miracle child. "Every single one of them had life-threatening illnesses but are here because of the expertise and care they've received, and they are going to be here for this Christmas and a lot more Christmases," she said.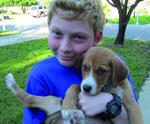 Jesse Dasinger cuddles with his dog, Liberty, a prize from his parents on the one-year anniversary of his diagnosis.He had a bone marrow transplant Jan. 20.

Nista said the parade is a concrete way of showing the generosity that MUSC has for its patients. MUSC and the Angel Tree board was recognized by the Salvation Army as being the largest contributor to the Angel Tree program. Nista said there will be 2,000 toys coming into the Horseshoe. "People show up with trucks loaded up with toys even if they haven't picked an angel. MUSC employees are generous every day just by the work they do, but this is a fun, concrete way to show their generosity."

This year's parade starts at 11:45 a.m. Dec. 9, leaving from Ashley River Tower, going down Jonathan Lucas to Sabin Street and then up Ashley Avenue to end at the Horseshoe at noon. Nista said they need employees to participate in the parade, doing everything from riding on floats to pushing along toy bikes, as well as cheer on the sidelines.

For more information, visit http://www.musc.edu/catalyst/angel.html, call 792-8382 or email nistal@musc.edu.