By Jeb Edwards
Public Relations
Nine Porter-Gaud girls took their "Oath of Discovery" Oct. 3 as part of a pilot program that focuses on increasing the number of women in leadership roles in medicine.

The nine girls received their lab coats in a ceremony that inducted them into the first year of the MUSC Girls in Research and Medicine program. Upon taking the "Oath of Discovery," which is an adapted version of the Hippocratic oath, these carefully selected girls will be introduced to the world of research and medicine.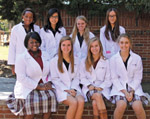 Back row from left are: Tahirih Nesmith, Eileen Zhang, Suzanne Trivette and Angela Liu. Front row from left are: Mallory Banks, Maddie Farrell, Mary Beth Robards and Elen Edelson. Not pictured is Emma Whittemore.

One or two days a month, through attending lectures and working in labs with mentors at MUSC, the girls will learn methods that are used in the study of cardiovascular disease and cancer. Cynthia Wright, Ph.D., associate dean for admissions, and Perry Halushka, M.D., Ph.D., dean of the College of Graduate Studies, coordinated the program with the vision that it will lead to more women in leadership roles in the medical world.

Suzanne Trivette, a Porter-Gaud senior in the program, said she's thrilled to participate. "I hope it will give me more insight into the types of projects doctors are currently working on, and I'm sure it will be a lot of fun."

Rebecca Pritchard, science department chair at Porter-Gaud, said Porter-Gaud participated in an MUSC program during the summer with the same ideals. It was not until last school year that a parent posed the idea of extending the program. "It really is incredible because for years they have been in the summer program and people began to wonder why it is limited only to the summertime," she said.

The idea was finalized when parent funds were donated for the program, and everything seemed to fall together well. "It was one of those things that just happened with the help of many people and the strong organizational skills of Jen Rader, Porter-Gaud biology teacher."

One condition that came with the donation was that the first year the program be limited to only girls at Porter-Gaud. Ann Ritter, Hollings Cancer Center advisory board member and initial contributor in launching the program, said that the program aims to expose young women to professionals in medicine. The idea was to try to help students open their eyes to the possibilities around them.

It is imperative that skills in medicinal leadership are developed at a young age, Ritter said. "Department chairs are often not women. It's unfortunate because as they move up and graduate, fewer of them go on to leadership positions."

The future goal of the program is to open the opportunity to students from other schools in the area.
Pritchard said, "We hope to enlarge the program by making it available to boys and girls."