By Cindy Abole
Public Relations

Evie Gray is not your typical teenager.

The 14-year-old freshman at Cane Bay High School in Goose Creek loves to travel, fish, water ski, swing on a zip line and other typical activities teens do. What is different is that Evie, who is wheelchair bound, has lived with spina bifida since birth. She can do all these things because of her own tenaciousness, spirit and support from others.

Evie is one of hundreds of Tri-county children (up to age 21) diagnosed with this disorder who receives treatment and care at MUSC's Spina Bifida Clinic, which operates monthly at Rutledge Tower. Established more than 20 years ago, the clinic provides comprehensive, family-centered care to more than 200 pediatric patients. MUSC's program is one of two pediatric spina bifida clinics serving South Carolina patients. The other clinic is at Shriner's Clinic in Greenville.

Born Dec. 27, 1996 in Fort Worth, Texas, Evie is the youngest daughter of Jeff and Wanda Shotsberger-Gray, and was diagnosed with myelomeningocele — the main form of spina bifida. Wanda is a histology technologist who wanted to return to coastal South Carolina to be closer with family. Before relocating to Charleston, Wanda inquired about pediatric programs and clinical support for her then, 3-year-old daughter.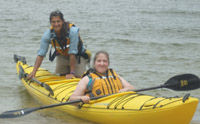 A Charleston County Park employee assists 14-year old Evie Gray as she learns to sea kayak. Gray, who is wheelchair-bound, has been a patient of the Children's Hospital's Spina Bifida Clinic since 2000.

"Having this clinic and available pediatric specialty services was extremely helpful to us. These services were available to us whenever Evie has needed it."

In the U.S., spina bifida is the most prevalent, inherited physical disability affecting children. Seven out of 10,000 newborns are diagnosed with the disease each year. More specifically, the defect affects the lower back and spinal column of a developing fetus and occurs when the neural tube fails to close resulting in full or partial paralysis and other medical issues. Although the effects of spina bifida are different with each person, children diagnosed with forms of the disease — meningocele, myelomeningocele and sacral agenesis — can seek treatment at MUSC's specialty clinic.

The clinic is headed by medical director and developmental pediatrician Michelle Macias, M.D., nurse practitioner Anne Marie Webster and a team of specialists.

At the clinic, which operates on the fourth Tuesday of each month, children receive independent evaluations, referrals and an overall continuum of medical care from prenatal to adulthood. The clinic provides medical management and care coordination throughout all stages of the disease. Medical specialists contribute to patient care, which includes pediatric orthopaedics, developmental pediatrics, neurosciences, pediatric urology and rehabilitation services-occupational and physical therapies. Other as-needed support also can be offered to patients in social work, clinical nutrition, speech-language pathology, neuropsychological and vision and hearing evaluations.

"We're also focusing on guiding families with available support to improve patient outcomes. Families can also benefit from psychosocial and family resources, including learning from each other. When this happens, patients do well and lead better lives," Macias said.

Once settled in Charleston, Evie spent the next decade in and out of area hospitals. She had to undergo a total of nine surgeries and procedures including numerous shunt revisions to help relieve fluid build up in her brain, surgery for a clubfoot, scar repairs and a spinal cord untethering, which resulted in her developing and recovering from severe meningitis.

Macias, Webster and other specialists have supported Evie throughout her journey.

"The coordination of care for Evie, and patients like her, is so important. It's what makes a difference in responding to the most immediate needs of children with spina bifida," Macias said.

Now in her teens, Evie is enjoying life. Wanda, who works in the Department of Pathology and Laboratory
Medicine, is her daughter's biggest fan and advocate.

The fun-loving teenager grew up attending public schools — interacting and playing with children her age. For a middle school project, Evie gave a 14-slide PowerPoint presentation about living with spina bifida to her classmates.

For social activities, Evie attended the S.C. Department of Health and Environmental Control's Camp Burnt Gin in Wedgefield and racing legend Richard Petty's Victory Junction Camp in North Carolina. Both are summer camps that promote fun and empowerment for children with physical disabilities and chronic illnesses.
Looking ahead, Evie is eager to graduate from high school and hopes to become a social worker. Helping others comes natural to Evie, said her mother.

As Evie and teens such as herself grow older, they will have to face the challenges that young adults with spina bifida often have to confront, including learning disabilities, bowel and bladder control, depression and sexual and social issues.

According to Webster, children with spina bifida respond more positively when they adopt a whole life approach to managing the disease. Since mid-September, the monthly specialty clinic expanded to include a regular clinic day (Mondays), managed by Webster, to support the needs of recently discharged patients and transitioning teens who must deal with coming-of-age milestones like getting a driver's license, staying physically active and exploring ways to gain their health care independence.
"The clinic is doing well at this time and the interest is growing. Someday we'd like to partner with other clinical departments including adult internal medicine and family medicine to guide the transition of care for these patients as they reach adulthood," Webster said.
Evie's mother's advice to a parent or family member with a child diagnosed with spina bifida is plain and practical. "Don't be afraid to seek help; whether its help for your child or emotional help and support for the parent. The resources are most likely available if you have the courage to seek it or ask."
For information about MUSC Spina Bifida Clinic, call 876-0444 or visit http://www.musc.kids.com/spinabifida

MUSC Spina Bifida Clinic
Michelle M. Macias, M.D. medical director and professor, Division of Behavioral Pediatrics and Genetics; Anne Marie Ciccolini Webster, R.N., pediatric nurse practitioner/clinic coordinator; Stephen Kinsman, M.D., pediatric neurology consultant to the Spina Bifida Clinic and chief of Neurology; Steven Glazier, M.D., Neurosurgery; James Mooney, III, M.D., Orthopedic Surgery; Richard Gross, M.D., Orthopaedic Surgery; Todd J. Purves, M.D., Pediatric Urology; Margee McKenna, M.D., Developmental Pediatric fellow; Jennifer Marshall, P.A., Neurosurgery; Jennifer Pitassi, P.T. and Katy Eisert, O.T.