The Waring Historical Library was named one of the winners of South Carolina Archival Association's (SCAA) 2011 "Program Innovation" award.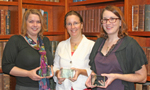 Accepting the award are Jennifer Welch, from left, Susan Hoffius and Brooke Fox.
This award recognizes the historical library's achievement in increasing the visibility of the special collections at MUSC via MEDICA, online and physical exhibits, and an oral history program.

During the past three years, staff at the Waring Historical Library, lead by curator Susan Hoffius, university archivist Brooke Fox, and digital archivist Jennifer Welch, have increased the visibility of the special collections. By incorporating current technologies and exploring new ways of increasing awareness of and access to its collections, the Waring Historical Library has expanded its outreach program beyond MUSC. Some of the innovative outreach tools used by the library include MEDICA (MUSC's digital library), an oral history program, and physical and online exhibits.
The Waring Historical Library's most significant innovation has been MEDICA, the institutional repository and digital archives of MUSC. MEDICA was created to provide access to current research of MUSC faculty and students, as well as the historical archival collections held at MUSC's Waring Historical Library and University Archives. MEDICA's collections include articles written by MUSC faculty, theses and dissertations written by MUSC students, and historical photographs and documents relating to the history of the health sciences. This institutional repository has opened access to the library's materials on South Carolina medicine.




Oral history program, established in 2008, has captured histories of MUSC from a variety of perspectives: faculty, staff, patients, and alumni. These interviews have been used to develop online and physical exhibits that have told the rich history of MUSC.




Physical and online exhibits have been used to share stories of MUSC's impact on medicine, research, and patient care in South Carolina. Exhibits have focused not only on the institution as a whole, but its faculty, staff, students, patients, and surrounding community.



This award was presented to the Waring Historical Library staff on Oct. 6 at the SCAA's annual meeting in Columbia. "It is a great honor to be recognized by our peers around the state for the work we have done over the last few years to raise the visibility of the Waring, its collections and programs," said curator Hoffius about the award.

For more information about this award or the programs highlighted, contact Hoffius at 792-2288 or Hoffius@musc.edu or visit http://waring.library.musc.edu.