If there's one thing Glenda Behrens knows how to do well, it's crochet a hat.

Fifty-one perfect pink ones to be exact, one for each year of her life. Behrens, administrative assistant in transportation, said she decided for her birthday this year that she didn't want it to be just about her. She wanted to give back in some way. She got the idea that she wanted to make hats for Hollings Cancer Center (HCC) patients, a spot of cheer for cold days during the winter season.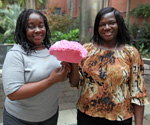 Glenda Behrens had fun making 51 hats for HCC cancer patients. She presented them to Barbara Busby, left, HCC concierge, Nov. 16.

People would see the hats and request one for a relative or friend who had cancer, so she kept having to make more.
That even happened on the day she came to deliver the hats, so Behrens frantically crocheted another one during her lunch to get the total back up to 51.

Behrens said she enjoyed the project, crocheting relaxes her, and even pulled in her friend Veronica Champion, a bus driver in transportation, who contributed 12 of the hats.

Barbara Busby, HCC concierge, was on hand to receive the donation. They piled up the hats on a table in HCC's serenity garden to take a look. Behrens said she was determined that they all be the vibrant "perfect pink" color. When Walmart sold out of the yarn, probably because of her, she waited for the next batch.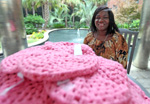 Busby smiled at her determination, thanking her for the contribution. Some patients who have to have chemotherapy get the chills, and they really need the hats and blankets to stay warm. "They are very caring to even think of doing this for the patients. They are so grateful for these types of things."