Honestly, Andy Curtis, a South Carolina College of Pharmacy, MUSC campus third-year student, is a bit burned out. It's not something a little turkey fry and Thanksgiving break can't cure, though.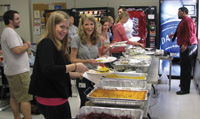 Andy Curtis, far left, watches his friends feast at the annual Turkey Fry. To view the video, visit http://bit.ly/MUSC_Turkey_Fry.

"We're guys. We're not the best cooks, but we try," he said, smiling as people pile in behind him to sample the goods.
Curtis and some of his fellow Kappa Psi fraternity mates rose at 6:30 a.m. to fry up 11 turkeys for the annual Turkey Fry. The fry raises about a 1,000 pounds in canned goods that goes to the Lowcountry Food Bank, and it gives students a chance to socialize before the break.

"We're all burned out. It's nice to do this and get a break before exams."

Even better, in this economy, they can meet a community need. "We like to fill up their shelves before the holiday season."