By Cindy Abole
Public Relations
There's a change in the air in the world of health care and medical coding.

The United Kingdom did it. So did France, Australia, Germany and most recently, Canada in 2001.

What's happened in each of these countries, and soon in the United States, is a change in the way hospitals, physician practices and health systems assign codes to report medical diagnoses and inpatient procedures. It also will impact and improve the way these entities measure health care processes and outcomes. The new system goes into effect Oct. 1, 2013.

The World Health Organization initiated this change, replacing the older International Classification of Diseases, 9th Edition (ICD-9) coding structure to a newer, more expanded ICD-10-Clinical Modification code sets. For the U.S., the Centers for Medicare & Medicaid Services is guiding this change. The new coding system supports diagnosis coding in most health care settings (ICD-10-CM) and within inpatient hospital settings (ICD-10-Proceedure Coding System).
To help MUHA and UMA's team of coding professionals prepare for this change, MUSC teamed up with Trident Technical College (TTC) this past fall to conduct a mandatory study course and review of related materials that would prepare certified coders for the ICD-10 upgrades.

The new system will expand available codes from 13,000 to 140,000 defined by seven alpha-numeric characters in length. It will feature updates to medical terminology and disease classifications and allows for the expansion of existing code sets, including the ability to collect more data and clinical information. It also manages statistics and provides a better overall expanded reimbursement system, according to Machelle Morningstar, Health Information Services ICD-10 educator and trainer.

For eight weeks, MUHA's Health Information Services' 43 code specialists spent Tuesday afternoons reviewing medical terminology and learning about human anatomy, physiology and pathology. The course featured interactive learning and practice tests and ended with a final exam. Students were able to take an online or hard copy exam, which consisted of 40 multiple choice questions. They received a certificate of completion and earned 16 continuing education units toward the renewal of their professional re-certifications with either of the profession's accrediting bodies, the American Health Information Management or the American Academy of Professional Coders.
Morningstar was recruited to manage the transition and guide MUHA coding team's training and readiness plans. She also serves on the hospital's ICD-10 steering committee, which is leading the change in her departments and with other users.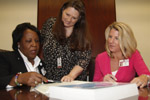 ealth Information Services coder Veronica Rivers, left, reviews study material with Trident Tech instructor Cathy Lowe, center, and fellow medical coder and classmate Dawn Stewart. They joined more than 40 MUHA and UMA medical coders in an eight-week review course in preparation for the new coding system changes set for October 2013.

"Establishing this new certificate program gives our medical coders the knowledge they need to prepare for the detailed changes associated with the ICD-10 transition. Offering this course like we did helped our coding team to step outside their everyday jobs and activities each week to concentrate on new information and actions that will help them maintain their skills and proficiencies. They all worked hard individually and as a team to achieve this."

For convenience, the two-hour class was taught on MUSC's campus by Cathy Lowe, R.N., health care training manager and instructor, TTC's Division of Continuing Education and Economic Development. Lowe is part of a team that teaches medical coding through TTC's online training program.

"MUSC coders already possess a good knowledge base of medical terminology and anatomy. What this course did was provide an opportunity to expand their knowledge with new terms instead of outdated ones and align that with the institution's current medical practice."

Veronica Rivers, a 20-plus year medical coding veteran who codes Ambulatory Surgery cases, admitted she was slightly nervous about returning to the classroom. "Like others, I thought I knew enough, but I soon realized that I really didn't. Completing this class has already made a big difference in my coding work and what I need to know for my job."
Dawn Stewart began her coding career with MUSC in 2008. She was excited to learn she was returning to the classroom as part of this training. She felt the class was well organized and the course directors were positive and supportive.

Both Lowe and Morningstar agree that what made the classes work was the already established relationship between MUSC and TTC through the school's internship program, which places its medical record coding students at MUSC to gain work experience.

Lowe said the existing partnership made it easy for MUSC to move forward in this direction. "Trident Tech is already offering this training with other practices and organizations impacted by this coding system change. The early preparation and planning is a win for everyone," she said.

Starting in January, the coding team will return to the classroom to continue with the next step in their training. The class, which will be led by Morningstar, will focus on coding rules and classifications that pertain to procedures and diagnoses.

Meanwhile, the committee is collaborating with other hospital specialists involved in billing, electronic medical records, software development and other departments involved in the transition.