By Cindy Abole
Public Relations
Their voices and greetings are considered the gateway, the front door to MUSC and its services.

The 22 Communications Call Center operators are busy answering questions, providing operator assistance and electronic communication to nearly 6 million phone calls and pages each year.

The call center was established as the institution's main switchboard more than 60 years ago and was reorganized as the university's Communications Call Center in 1996.

In addition to phone operations and coordinating Simon paging, the operators also manage UMA and the hospital's on-call calendar system and after hours answering services, transplant organ procurement service via Donornet and other support.

They also respond to thousands of operator calls and dispatches of more than 50 hospital emergency paging groups. All of these services are covered and offered by this team, 24/7 and 365 days a year. For many years the group has worked from the North Tower offices at the university hospital.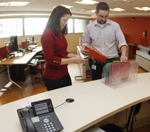 Communications Call Center's Kathryn Cullinan, operations coordinator, reviews details with Kevin Bruce, shift coordinator, as they settle into their office featuring functional modular furniture, a conference room, break area and lobby to support customer service. The call center is composed of 25 operators, supervisors and management.

On Nov. 5, the call center group will relocate to Suite M105 (Mezzanine Level) at Ashley River Tower (ART). The group previously had a part-time presence at ART managing communications support and equipment. This department relocation and change will be a welcome one, according to Jane Lunn, Communications Call Center director.
Within the last several months, Lunn and members of her team have been actively working with contractors, reviewing blueprints, selecting office furniture and confirming designs in their new space. When complete, it will feature a welcoming lobby-entrance and training area, expanded operator service section, conference-training room and formal break room complete with a locker area. They'll also have something that they've never had before — windows, which will bring in natural light.

According to Betts Ellis, director of MUHA Institutional Relations, the call center has kept pace in providing the leading edge in communications technology.

"The call center provides a vital patient safety and service function, involving hundreds of 24/7 paging groups. The move to ART is needed because the particular space occupied in North Tower, unlike clinical areas, has some shortcomings with power redundancy which could be problematic in emergency situations."

New operator Katie Daniel has only worked at the center since April. A communications graduate from the University of Georgia, Daniel is looking forward to working in a newer location. "Having a window will be the biggest change."

Veteran operator Annette Washington has seen a lot of the department's changes in her 29 years service. She remembers the days of multi-line desk phones, plug-and-play phone operations and using DOS computer databases to manage information. Today, the phone system and newly-updated paging hardware system is user-friendly and second to none. "It's exciting for me and my coworkers to see and experience these changes. It's great for everyone involved."

Other MUSC employees will continue to benefit from the department's quality customer service. Neonatal Intensive Care Unit assistant nurse manager June Stovall is one of the call center's biggest fans. The operators and staff have been invaluable to her team.

"The call center operators and staff have always been courteous and helpful both on the phone and in person and whenever I've needed to borrow a loaner phone or pick up a pager, batteries or something else. Betty, Marie, Myron, Annette and other operators recognize you when they answer your call and you, them. For some, they may never know what these individuals look like, but they will greet you on the phone and work with you as if they were your 'best friend.' This team has the most knowledgeable folks on campus."

For more information, contact the MUSC Communications Call Center at 792-7992.