By Astrid Gasselhuber, Ph.D.
Pediatric Cardiology

Austria, often confused with Australia, is a small landlocked country, located in the middle of Europe, surrounded by no less than eight other countries. Austria is about the size of South Carolina and has approximately twice as many inhabitants. The Alps cover more than 60 percent of Austria's landscape, and perhaps this is why skiing is one of the most popular sports among the Austrians. Only the area in the east, where the Austro-Hungarian- Empire-influenced capital Vienna is located, does not have mountains.

Austrian culture has not only been largely influenced by its eventful history, but also by its past and present neighbors, which shows in its food, literature and architecture, just to name a few areas. Austria has been a member of the European Union since 1995, and the euro was introduced as its currency in 2002.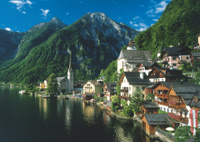 Austria, about the size of South Carolina, is known for its mountainous terrain.

The development of the Austrian health care system has roots back to the Austro-Hungarian monarchy in 1867. Today, health insurance is part of the social security insurance system, just as accident and pension insurance are. The health care system is based on solidarity, to ensure medical care independent of social status or income. There is comprehensive social health insurance coverage; about 98 percent of the population is protected. All employed people in Austria and their employers contribute equally to the system, depending on their income.

Usually it is not possible to choose a social security institution, since it depends on employer and location. However, there is no competition between the social security institutions. Physicians typically have a contract with the social health insurance funds and patients are free to choose a general or specialist physicians.

Insured people have the right to a large number of covered services. Apart from primary health care services and emergency care, there also is a wide range of health promotion and prevention services offered. Since 1974, social health insurance funds have offered annual preventive health check-ups free of charge. Private health insurances typically cover additional benefits or costs, such as a higher comfort class in hospitals.

In 2009, the Austrian total health expenditure was about $4,300 USD per capita, compared to about $8,000 USD per capita in the United States. There are continuing political discussions regarding structural changes in the Austrian health care system. However, surveys show that a vast majority of Austrians are highly satisfied with the existing provided health care services.

Fast Facts

"Silent Night" was composed by a primary teacher, Franz Gruber, in a small Austrian village in 1859.

Almost 90 percent of the population speaks German, which is also the official language.
The energy drink, Red Bull, is an Austrian product.
More than 68 percent of Austria's electricity is supplied by renewable sources.

The candy, PEZ, was invented in Austria.

The sewing machine was invented in 1818 by Josef Madersperger, an Austrian.

Soccer is a popular sport in Austria. However, the national side has had little success over the years.
Editor's note: The Global Health page focuses on raising awareness of international health issues through an academic venue with the purpose of improving the quality of care for patients. E-mail globalhealthnews@musc.edu.

International Events
International Thanksgiving Feast Celebration
Noon - 1 p.m., Thursday, Nov. 10
Harper Student Center Auditorium
Presentations by local Native Americans of theSantee Tribe and Senior Brockingham and Associate Archaeologist Dr. Eric Poplin. All are encouraged to bring a dessert native to their country
International 'Sweet and Savory' Bake Sale
11 a.m. - 1:30 p.m., Friday, Dec. 2
Portico and University Hospital lobby
(across from Starbucks)
Purchase baked goods from around the world and the proceeds go to the
Hope Lodge Dinner and other community outreach.
All international activities can be found online at http://www.musc.edu/international
or friend us on Facebook: MUSC International Programs