Honoring a researcher described as one of the "most gifted problem solvers," MUSC dedicated the Ralph F. Hirschmann Structural Biology Laboratory Oct. 21 in memory of the former university professor of biomedical research.
MUSC President Ray Greenberg, M.D., Ph.D., said it was a fitting honor for Ralph F. Hirschmann, Ph.D., as he had the talent of being one of the most gifted problem solvers. "One of the things he advised us about was our need to build a structural biology program at MUSC. What we see on this campus really is a development of the campus master plan that goes back to 1997."

Daughter Carla Hummel, M.D., said she felt honored and privileged to represent her father, who passed away in 2009, on the dedication.

"There was no facet of my father's professional career that he enjoyed more than his years here. I am grateful to MUSC for extending to my father the privilege of consulting here, and I thank you for making him a welcome member of your MUSC family."

She said her father was proud of his association with MUSC and deeply honored when he learned in 2006 that a laboratory would bear his name. He felt that was one of the biggest honors of his professional career and surely it will be one of the most enduring, she said.

"I congratulate you all on the magnificent fruits of your labors in building this exceptional medical center and thank you again for honoring my father in this extraordinary way."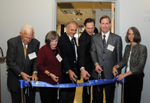 Drs. James B. Edwards, MUSC President Emeritus, from left, Rosalie Crouch, Distinguished University Professor and Provost Emerita; Yusuf Hannun; Ray Greenberg; and Drs. Paul and Carla Hummel (son-in-law and daughter of Hirschmann) cut the ribbon celebrating the dedication of the Ralph F. Hirschmann Structural Biology Laboratory.

Born in Fürth, Germany, Hirschmann immigrated to the United States in 1937 and became a citizen in 1944. Starting out as a process research chemist, Hirschmann became the director of medicinal chemistry and eventually retired as senior vice president of basic research in 1987. In 1969, Hirschmann helped lead the Merck team that performed the first in-solution synthesis of enzyme ribonuclease. While at Merck, Hirschmann and his research team also developed several widely-used drugs such as Vasotec, Lisinopril, Primaxin, Mevacor, Proscar and Ivomec.

After retiring from Merck at age 65, Hirschmann joined the faculty at the University of Pennsylvania as the Rao Makineni Professor of Bioorganic Chemistry. While at Penn, he collaboratively established the field of peptidomimetics. Hirschmann was associated with more than 100 patents and co-authored more than 150 papers.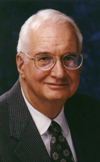 Dr. Ralph Hirschmann
Hirschmann also held a teaching appointment at MUSC from 1987 to 1999 as the university professor of biomedical research. He was the recipient of an honorary degree in 1997 recognizing his contributions in biomedical research. MUSC established an endowed chair in his honor — the Ralph F. Hirschmann Professorship of Basic Biomedical Science.

Yusuf A. Hannun, M.D, Ralph F. Hirschmann Professor of Biomedical Sciences and chairman of the Department of Biochemistry and Molecular Biology, said Hirschmann took it upon himself to make sure MUSC launched on a strong foundation with an enhanced emphasis on structural biology and basic sciences.

The lab is located on the second floor of the Drug Discovery Building. To view a video of the dedication, visit http://bit.ly/MUSC_Hirschmann.