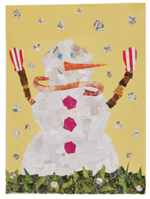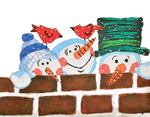 The 2011 MUSC Children's Hospital "Kids Helping Kids" holiday card project kicked off Oct. 26 with a special ceremony at St. Luke's Chapel.

Twenty-eight cards were selected from 60 submissions, including 11-year-old Aiden El-Mereebi's who drew the three snowmen pictured above, and "Snowman" below, which was the winning Card of the Season created by Hana Dorman, age 16. The Card of the Season was selected by public vote from five finalists.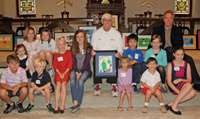 Children who created the holiday cards gather with College of Charleston basketball coach Bobby Cremins (center) and Brian Cleary of Y102.5 radio.

At the ceremony, pediatric oncologist Jacqueline Kraveka, M.D., made a special presentation of a framed card created by former patient, Harper Drolet, to her family. Harper passed away at Children's Hospital just three weeks ago. Her Christmas card is titled, "Virgin Mary on a Horse."

Hana's "Snowman" card is available in both packs (15 cards for $15). Hana and Harper's cards also are available as individual order cards. To purchase, visit http://www.musckids.com/holidaycards/index.htm.

Dr. Jacqueline Kraveka (right) gets a hug from parent Amy Drolet.