By Cindy Abole
Public Relations
Ask any MUSC scientist whose lab is located in the James E. Clyburn Research Center how they would describe Leslie Kendall and they're quick to shower her with titles such as chief organizer, decision maker, and all-around go-to-person.

But to many, she's also affectionately known as the project "mom" for her dedication and expertise with this building effort.

In reality, Kendall is all this and much more since being charged to manage the preparation, staging and occupation of the campus' newest research facilities, the Drug Discovery and Bioengineering buildings. In the six years she's been involved with this project, she has worn a lot of hats to identify with the many roles she's embraced and mastered — production manager, director, executive producer, set designer and crew chief. But the role of "mom" is what really grabs her.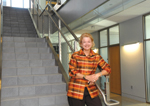 Leslie Kendall, research operations director, is known for her commitment to the James E. Clyburn Research Center project.

"I really don't mind it. Moms are capable of doing just about anything and everything is their responsibility. In this effort, people are more likely to react when things go wrong instead of when they go right. When that happens, it's natural for anyone to turn to someone who's responsible, knowledgeable and an overall go-to person like a mom; the person who makes everything right."

Not new to managing and supporting the laboratory needs of researchers, Kendall previously managed the 2005 opening of the 121,000 square foot, seven-story Charles P. Darby Children's Research Institute (DCRI), which gave the campus a premiere comprehensive children's research facility. "We are opening facilities that have almost twice as much square footage here compared to DCRI. The new complex features two major conference facilities as well as several classroom locations."

One of her team's most challenging jobs was to plan and orchestrate the relocation of more than 25 researchers and scientists from all areas of campus and within a tight four-week period.

Patrick M. Woster, Ph.D., SmartState Endowed chair in Drug Discovery, South Carolina College of Pharmacy, and his team were among the first groups to move into the Drug Discovery Building on Sept. 5. A new faculty member who relocated to MUSC from Michigan, Woster is excited about his new location and lab, which has been outfitted for medicinal chemistry.

"Leslie was extremely helpful in answering our many questions, and helping us get oriented to a new environment. She also coordinated the installation of phones and internet jacks in the labs and offices, and we were online after one day in the building."

Xuejun Wen, M.D., Ph.D., who is the Hansjorg Wyss Endowed Chair and a regenerative medicine professor, also relied on Kendall for packing and relocating the lab to the third-floor area of the Bioengineering Building.

"Moving multiple labs into two buildings is not an easy task. There were lots of details to consider from telephone transfers to setting up vacuum lines in the lab. 'Mom,' as I affectionately call Leslie, Neil (Eichman) and their support team did a great job managing lots of little details for us. It was an A-plus experience."

Through each stage of the project, Kendall has worked closely with diverse teams of people who've managed decisions and contributed to it from the conceptual design stage with project architects Stevens and Wilkinson, a team of campus researchers, the university's central administration and Engineering and Facilities staff, to builders with Brasfeld Gorrie, interior designers and a multitude of other contractors involved.

Just days before the facilities' formal dedication, Kendall, along with research operations manager and colleague, Neil Eichman, could be found coordinating the location of 144 new emergency power outlets or testing and adjusting the height of more than 400 newly assembled conference room chairs and, crawling on hands and knees to clean sheetrock dust out of room corners.

At the Oct. 21 building dedication, Kendall joined others who were beaming and gushing with pride — not only for the VIPs, researchers and invited guests in attendance, but also for achieving so many important project milestones.

"I'm proud of every person who has been part of this project's design, construction and occupation. Think of it, someone's put their hand on every beam and brick used to create this remarkable complex, and every microscope and incubator used to advance the science that will be performed here. It's truly a miracle that surrounds us," she said.