Every Wednesday evening, eight to 10 medical students volunteer at the Crisis Ministries' Homeless Health Clinic to treat patients with a variety of illnesses, such as sore throats and ear infections.

According to Grace LeSueur, Touchpoint Communications, students are not required to volunteer, but enjoy the experience that a free clinic provides.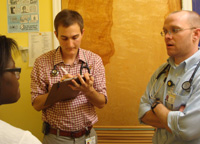 Ted James (left), a third-year student in the College of Medicine (COM), and Andrew Seymore, a COM first-year student, treat a patient at Crisis Ministries's Homeless Health Clinic.

Crisis Ministries, South Carolina's largest homeless shelter, conducts more than 1,700 visits at the clinic annually and focuses on prevention and long-term solutions. In addition to student volunteers, a Volunteer Physicians Program was established in 2008 to provide primary and speciality care onsite by using retired and practicing physicians once a month.

Crisis Ministries broke ground on a new, 28,000-square-foot facility in October, which will expand services and increase the number of guests served. The new shelter is being built adjacent to the existing shelter complex, with completion expected in 18 to 24 months. The facility will feature a health clinic with exam rooms, a dental room and nurses' station.

Students or physicians interested in volunteering may contact Stephen Carek (carek@musc.edu) or Casey Holmes (odell@musc.edu).

Medical personnel who wish to volunteer may contact Selena Wilson at swilson@charlestonhomeless.org (723-9477 x113) and general volunteers may contact Bradford Cashman at bcashman@charlestonhomeless.org or 723-9477 x124).