By Cindy Abole
Public Relations
There's a change in the air that MUSC expects will improve clinical services and enhance patient care.

By spring, MUSC clinicians and staff will be using a new electronic medical record (EMR) system that provides more comprehensive and efficient tools to better manage patients' care. This Ambulatory EMR is expected to heighten the delivery of quality patient care, safety and improve clinical research.

On March 22, MUSC will launch the Epic Ambulatory EMR as a replacement to the current system, Practice Partner.
MUSC Vice President for Medical Affairs and College of Medicine Dean Etta D. Pisano, M.D., states that the implementation of Epic is critical for MUSC's clinical enterprise. The project's implementation is being managed by the college's new chief medical information officer, Bob Warren, M.D., professor of pediatrics, and by leadership from MUSC medical center, Office of the Chief Information Officer (OCIO) and University Medical Associates (UMA).

Pisano said the new system will provide many changes. It will help improve quality of care and patient safety, efficiency and effectiveness and patient communication and engagement. "It will enrich clinical research by standardizing patient data collection and analysis and help us meet 'meaningful use' requirements."

The American Recovery and Reinvestment Act of 2009 describes meaningful use as health care organizations that embrace the use of electronic health records (EHR) and related technology to manage and measure a patient's health care.

Epic will begin in five pilot clinics — University Internal Medicine, Pediatric Cardiology, Carolina Family Care Practice (Two Island Court, Mount Pleasant), Pediatric Hematology/Oncology and East Cooper OB/GYN in late March. All other users of Practice Partner will switch to Epic May 17. It is expected to affect as many as 5,000 users.

Many academic medical centers and hospitals across the country are making the switch in their current clinical software and information technology systems. More than 260 academic and health care systems are using Epic's health information technology. According to Kim Davis, M.D., co-chair of the committee and one of the physician champions, about 35 to 40 percent of the U.S. population is in an Epic system nationwide.

In mid-February, MUSC and UMA signed a contract with Epic Systems Corporation to acquire Epic Ambulatory software.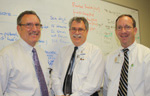 Members of the nine-person Epic Project Management Team include UMA's Mike Balassone, from left; co-project director; Dr. Bob Warren, chief medical information officer; and Dave Northrup, OCIO, co-project director.

A 21-member multidisciplinary Ambulatory EMR Implementation Oversight Committee was formed in April to manage the changes. This work group, which consists of MUSC and Epic Systems Corporation liaisons, has met regularly to plan the conversion.

The project is supported by meaningful use funding to eligible professionals and hospitals that adopt or upgrade to EHR technology. These stimulus funds, which are intended to support EMR implementation, are available based on criteria that physicians must meet by October.

This replacement project was initiated in July 2010 when hospital management elected to replace Practice Partner. A committee featuring physicians, nurses and representatives selected EpicCare Ambulatory EMR after a six-month selection process. MUSC leadership chose to approve several IT positions prior to February, according to Dave Northrup, OCIO director of clinical systems and a member of the committee. Key training and certification of a core group of MUSC analysts regarding Epic soon followed. Epic user training for nursing, physician providers and administrative groups will begin in February.

Northrup and others were pleased with the trial period and selection process. "We wanted to learn how a system like Epic works, how we can build upon it and how it works at other academic medical centers."

The system features a variety of functions including improvements to order entry, physician inpatient documentation and the patient portal (MyChart). Physicians and nurses can chart on the same record, conduct medication management using work review queues (InBasket) to sign prescriptions and refills. Tools like abstracting will allow physicians to gather details about a patient's medications, allergies, medical issues and health history. The system also provides additional levels of security and authentication for users and follows Health Insurance Portability and Accountability Act for privacy and compliance.

According to Northrup, Epic is expected to make a significant change on the clinical workflow that will impact the system during the first month. To prepare for this, Epic departmental support teams are asked to prepare "slow down" plans throughout the roll out period.

Warren said the transition marks an important milestone. "Epic will be a transforming leap in patient care at MUSC."
Since October, OCIO IT staff and Epic project liaisons have conducted application testing. Project leaders have hired trainers to assist with training prior to the March 22 go-live event in five pilot clinic locations.

MUHA and UMA users and super users (physicians, nurses and clinical/administrative staff who receive a higher level of training and system privileges than a typical user) must complete approximately eight hours of classroom training (with a test). Other users will receive two to four hours of training via e-Learning or CATTS. Users must register online for training at locations in Mount Pleasant, North Charleston and MUSC.
For information on training, email epic@musc.edu. For Epic information, visit http://epic.musc.edu.
Epic oversight committee
Kim Davis, M.D., co-chair and physician champion; John Kratz, M.D., co-chair and physician champion; Bob Warren, M.D., chief medical information officer; Tim Whelan, M.D., Pulmonary/Transplant; David Soper, M.D., OB/GYN; David Habib, M.D., Pediatrics; Howard Evert, Carolina Family Care; Barton Sachs, M.D., Orthopaedics and workflow chair; Rosemary Battaglia, R.N., Pediatrics; Sherry Gillespie-Miller, R.N., Ambulatory Care and nurse champion; Linda Randazzo, Ambulatory Care and workflow project manager; Heather Kokko, PharmD, Pharmacy Services; Julie Acker, UMA Compliance; Nancy Reilly Dixon, Laboratory Services; Linus Brown, Radiology; Sue Pletcher, Health Information Services; Dave Northrup, OCIO and co-project director; Mike Balassone, UMA Information Systems and co-project director; Brett Seyfried, OCIO; Tasia Walsh, UMA Informations Systems and EpicCare application manager; and Jim Smith, EpicCare system manager