By Dawn Brazell
Public Relations
A plaque with the saying 'You can't build a reputation on what you're going to do,' hangs outside the office of Charles Darby Jr., M.D.

Building a reputation is something Darby doesn't have to worry about. Armed with a charming Southern manner and an impassioned drive to improve children's health, Darby smiles uncomfortably about being the recent recipient of the Jerry Zucker Lifetime Achievement Award.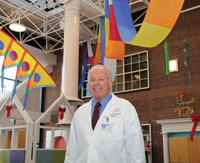 Known as a visionary, Dr. Charles Darby Jr. looks forward to planning for MUSC's new children's hospital.

"I feel a little awkward about it. The pleasure and satisfaction one derives from community service is enough of an award. Besides this lifetime aspect has a sort of terminal ring — like it's all over."

Darby did try retiring when he stepped down as chair of MUSC's Department of Pediatrics in 2001 — the year he received the Order of the Palmetto, the state's highest award. He took up golf but it wasn't long before boredom set in.
He was missing purpose in his life. He knew too much about the needs of children and had too much experience in administrative, legislative and philanthropic circles to sit idly by.

After all, this is the pediatrician who founded MUSC's Children's Hospital in 1987 and the man who has helped generate more than $101 million in philanthropic funding for pediatrics programs in the past 30 years. He recently helped secure a $1 million donation for The Boeing Center for Promotion of Healthy Lifestyles in Children and Families. He has been instrumental in ensuring that the Charles P. Darby Jr. Children's Research Institute, one of only 15 of its kind in the nation, moves forward in generating life-saving research to benefit children.

Darby now serves as the executive director of the Center for Child Advocacy that provides a variety of government relations, advocacy, and development services in support of the MUSC Children's Hospital. The center also provides management services to the South Carolina Children's Hospital Collaborative, a nonprofit association consisting of the state's four children's hospitals.

Advocacy work isn't as satisfying to him as working one-on-one with children and families, but he knows it's where he can do the most good.

"It is not the most exciting, nor is it what I was trained to do, but it is rewarding when you can help get funds like the cigarette tax passed and dedicated to health. It is very important to work with public leaders, especially those at Medicaid, to ensure that children's health services are adequately funded. Without advocates, children have no voice in public decisions."

Currently, his No. 1 priority is the building of a new children's hospital. Today, the Children's Hospital has more than 180 physicians and surgeons who are specially trained to care for children – a stark contrast from the five physicians providing services 50 years ago. "We need a new children's hospital and the sooner we get it the better. Right now we have great staff, and the new chair is top notch. We have fantastic pediatric and thoracic surgeons. We want to remain competitive in recruiting pediatric specialists. If you don't have a good facility, they're not going to take a second look."

Darby is not about to let that happen. Dena Hughes, program manager for the advocacy center, has worked directly for him since 1999 and describes Darby as an applied visionary. "Usually visionaries can't bring it down to the real world level, but he doesn't have that problem. He is just as capable and committed to implementing a dream as he is of dreaming the dream."

He knows how to cross ideology, party lines, and agendas to always keep his focus on what's best for children's health, which enables him to succeed where others fail, she said. His goal has always been to recruit the best and the brightest and he is particularly excited about the leadership of Rita Ryan, M.D., who became chair of the Department of Pediatrics in July.

Hughes said his philosophy has always been to recruit the very best, provide been to recruit the very best, provide them with all the tools they need, and encourage their success. "He isn't afraid of the best in others. He truly is a first class Southern gentleman with a great deal of integrity and one who is kind, generous and deeply committed to children."

Darby likes to surround himself with others who also have children's health and welfare as their passion. He's pleased with the board members who serve the Children's Hospital.

"We have a great, active board that understand the need and enjoy serving. What better cause is there than the health of children?"

He looks forward to the next five years at the Darby institute, given the potential in pediatric research. He'd like to see more work done in pediatric cardiology. "We've done a great job in repairing children's hearts, but I don't think we've even made a start in preventing heart disease in children."

Other areas he'd like to see targeted are autism and the prevention of low birth-weight babies — an area in which it has been hard to improve outcomes. Child abuse, one of the leading causes of mortality and morbidity, is another problem area. "We have some terrible outcomes. We have too many shaken babies with severe brain damage. There is tremendous opportunity to improve in these and many other areas."

In his free time, Darby likes to be with family. He and his wife, Joyce, have five children and 16 grandchildren. He balances his part-time work with making time for them.

Darby said he considered volunteer work in Africa, but felt he could be more effective here at home — whether it's pushing for research, legislation, facilities or staff recruitment.

"I always think of children as being our most precious gift and I believe that society is judged by how well we take care of our children."

For information on the Children's Hospital, visit http://www.musckids.com/index.htm.

For information on the advocacy center, visit http://clinicaldepartments.musc.edu/pediatrics/advocacy/.