The Nanjing Drum Tower Hospital, sister hospital to MUSC, sent a delegation of eight senior physicians, nurses and administrators to participate in the inaugural Academic, Clinical & Cultural Seminar.

The seminar, hosted by MUSC President Ray Greenberg, M.D., Ph.D., and Thomas Hulsey, Sc.D., offered an opportunity for the institutions to re-establish their historical connections, and for participants to identify areas of possible collaboration between the two hospitals.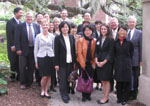 MUSC officials welcome Chinese delegation to campus.

During this seminar, participants engaged in an introduction to clinical trials at MUSC, interacted with physicians, researchers and administration from various areas of the university, toured the facilities and became acquainted with the history and culture of Charleston.

Lisa Frawley, program coordinator of the Global Education Program, said it's an exciting step.

"This widespread exposure has opened the door for collaborative opportunities on many different levels, and we are looking forward to seeing our relationship blossom in the years to come."

Prior to this seminar, Hulsey and Daniel Lackland, DrPH, went to Suqian People's Hospital Nov. 7. They visited the hospital to review the historical linkages between MUSC and the Suqian municipality in the Jiangsu province of China to discuss current and future academic and medical collaborations and exchange programs. They also visited the historical and scenic venues of Suqian.