By Cindy Abole
Public Relations
It is Pediatric Intensive Care Unit (PICU) nurse manager Melinda Biller and her team's goal to reduce infections and save lives, especially for the Children's Hospital's youngest patients.

For the last few years, unit nurses, technicians, physicians and other staff have committed to creating and sharing best practices as part of a 24-month national collaborative focused on infection prevention in the hospital. PICU's efforts yielded the establishment of a unit-based patient safety program infrastructure to prevent infections related to the use of central line catheters while improving quality patient care.

In October, PICU was recognized by the S.C. Hospital Association (SCHA) for their efforts in reducing blood stream infection (BSI) rates with a Stop BSI Award. Since February 2010, the PICU has had no identified central line-associated bloodstream infections (CLABSI).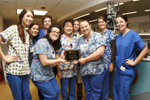 PICU staff receive the South Carolina Hospital Association's most improved award for reducing blood stream infections in patients.

Biller is pleased with this accomplishment within her 11-bed specialty care unit.

"I'm extremely proud of our staff for this achievement. Everyone's been proactive and invested with this effort since we committed to it back in 2009."

In the United States, about 99,000 people die each year from health-acquired infections (HAI), with catheter-associated urinary tract infections being the most common and CLABSI one of the most serious. To reduce the prevalence of HAIs, SCHA has partnered with DHEC's Hospital Infections Disclosure Act section and the South Carolina-Palmetto Chapter of the Association of Professionals in Infection Prevention and Control, to organize SC hospitals like MUSC to commit to reduce CLABSIs through staff and patient education, communications and best practices.

The effort was lead by Biller and PICU nurses Natalie Bell, Patricia Prause and Rose Augustus, Joel Cochran, D.O., and by Beth Rhoton, an infection preventionist with Infection Prevention and Control. The team proposed new best practices that focused on a personal approach to care with improvements to patient and family communications, scheduled dressing changes, practice audits, establishment of a unit safety board and other measures.

Other interventions adopted by the 45-member staff for decreasing CLABSI risk include hand hygiene (in October, the unit was 99 percent in compliance), skin preparation using a more effective antiseptic prep prior to central line insertions and line care maintenance. Working with MUSC Prevention and Control and the hospital's Zero BSI prevention groups, the unit possesses one of the medical center's best infection rates and has reduced CLABSI by 91 percent within the past few years.

"We knew what each of us should be doing both individually and as a team. We recognized that embracing a culture of safety change within our staff extends past BSI. Bottom line is that we are the last line of defense as it relates to preventing health care associated infections with our patients," said Biller.

MUSC's Zero BSI initiative began September 2008 and developed the institution's IV line care and maintenance bundle as well as a mandatory education on IV line care. These were begun in several trial units, then rolled out to the rest of the hospital.

Also, South Carolina and MUSC's effort follows a national initiative led by infection prevention advocate Peter Pronovost, M.D., the Johns Hopkins Quality and Safety Research Group and other nationally recognized hospitals and medical facilities to reduce the incidence of BSIs.

Deb Browning, R.N., Children's Hospital nursing director, couldn't be more proud of the PICU team's progress.
"Melinda is a strong PICU manager and leader who is energetic and enthusiastic about her cause. She is always challenging the PICU staff in providing the best care possible to the hospital's pediatric patients each day. She fosters an atmosphere that leads everyone to want to do their best to decrease BSI and other health care-acquired infections.
She is a true mentor and patient advocate."

Rhoton was assigned to work with the PICU team. PICU was among 16 MUSC units and departments involved in the National Stop BSI Initiative.

"The PICU's teamwork and commitment with this effort has been incredible. This is an outstanding accomplishment for them and other MUSC inpatient units that have made improvements in this area."

In the coming months, the PICU team will take lessons learned from reducing BSI to apply to lowering rates for ventilator-associated pneumonia infections.