By Cindy Abole
Public Relations
Just days before Florida native Nick Battles was to graduate from boot camp, an accident transformed him from being an athletic to being a spinal cord injury victim.

Battles, 19, was on track to fulfilling a dream to become a Marine. On Nov. 9 he suffered a severe spinal cord injury during a training exercise. Battles was quickly transported from Beaufort to Charleston and treated at MUSC's Neurosciences Intensive Care Unit (NSICU).

During the next five weeks, Battles got the support of nurses, physicians, pharmacists, patient aides, respiratory therapists and other specialists who rallied around him and his family.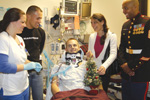 Wendy Battles gives her son, Nick, a donated Christmas tree created by members of the Council of Garden Clubs of Greater Charleston. With Nick is nurse Megan Withers and visitors from his boot camp training battalion.

Upon hearing news of Battles' injury, his family came to Charleston to give him their support. His mother, Wendy, was relieved to find out about MUSC's reputation as the Lowcountry's only Level 1 trauma center and that the NSICU provides the highest level of care for the most critically injured patients.

"The care at MUSC has been amazing for both Nick and our family. This is Nick's first experience in a hospital. We're so grateful to so many people who've been involved with his care or have shown support to him in some capacity. It's a tragic situation, but we feel truly blessed."

First, the NSICU team worked in managing Battles' pain, swelling and bruising from his injury. Later, he underwent successful spine surgery where surgeons realigned and fused a cervical fracture in his neck. Next, Battles began physical therapy to increase his range-of-motion and to do strengthening exercises and other therapies.

NSICU nurse Danielle Prox was Battles' primary nurse in the unit. To her, he was an ideal patient. "He has the most amazing positive attitude that I've seen in anyone. It's been a pleasure to care for someone who's that appreciative and sincere about the care they receive whether it's from me, a colleague or anyone on his care team."

Battles' Marine Corps family also remained by his side. Just a week after Battles was supposed to graduate, he got a visit from Marine Corps leaders and his battalion senior drill instructor. They presented him with the Corps' eagle, globe and anchor pin and promotion to the rank of private first class.

NSICU's Cheryl Holderfield has served as the unit's nurse manager since 2007 and considers herself a Battles "fan." For the five weeks that he has been on the unit, she's taken a back seat role as a quiet supporter to her talented 41-member staff. Holderfield was credited in 2009 to leading her staff in receiving the Beacon Award, a national recognition for achieving critical care excellence for best patient care practices and outcomes.

"There's something about Nick that draws people to him. He's respectful, polite and sincere. He possesses all the qualities that are taught in the Marine Corps — honor, respect, duty and discipline — and it shows. Nick's presence has brought out the best in each of us, and it's heartwarming to see."

As the days drew closer for Battles' transfer, his mother worried that he may not receive the same level of care at his new location, the James A. Haley Veteran's Hospital in Tampa. She was assured that the University of South Florida-affiliated hospital was among the best in the area and it's located near his father's fire station.

NSICU medical director and Battles' physician Julio Chalela, M.D., is a senior Army reservist and surgeon. Battles' youth and presence on the unit reminded Chalela of the fit Marine and Army recruits he'd care for during his deployments to Iraq. "I was impressed with their sense of duty, courage and commitment to country even in the toughest of situations. Nick's presence on the unit reminded me of that, and it was inspiring to all of us."

On Dec. 14, Battles said goodbye to his MUSC friends as he turned another corner in his journey to recovery. For 2012, his wish is simply to get better. "I hope to push myself more in every challenge that comes my way."