Come March 1, the smoking huts on campus will be history.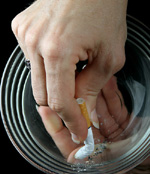 MUSC becomes a tobacco-free campus on that day, joining other medical institutions nationwide that have made this move.

Candace Gillespie, director of development for the College of Medicine, will quit smoking Dec. 1, cold turkey, before the deadline. She said she's glad MUSC is becoming a tobacco-free campus, and she's especially relieved that the entrances to the hospital will be cleared of smoke.

Though she doesn't smoke on campus, Gillespie said it still will be a hard change for her. She decided it was time to quit when she learned she was to have surgery in January and that smoking increases her risk of complications by 40 percent. The stakes were just too high, she said.

She thinks it's important employees who want to quit to encourage each other. She's tried many times during her 36 years of smoking.

"I'm a creature of habit. I do the same thing over and over. It's the hardest thing anyone has ever tried to quit in their life. I see an opportunity here to change that. Wish me luck."

Though the policy will not require smokers on campus to quit, it does require that the smoking be off campus. MUSC President Ray Greenberg, M.D., Ph.D., said the culture and behavior of a university cannot be changed by policy but rather by a collective effort on the part of all people who work and study on campus.

"We hope that the MUSC family will
embrace this change as one that reinforces our shared values and helps promote our role as caregivers and educators. Ultimately, whatever success we achieve with this effort will be directly related to the level of support it engenders within our community."

The change is part of a long process that started with resolutions passed by the Student Government Association (SGA) and the faculty senate.

"After hearing of the strong support for this change from both of these constituent groups, and based upon the recommendation of the administration, our board of trustees approved making the campus completely smoke-free," said Greenberg. "As the state's academic health center, we have an obligation to lead by example. Since smoking is the leading cause of preventable illness and death in our state and in our nation, it is incumbent upon us to create a healthy environment for our patients, their families, our employees and our students."

Darlene Shaw, associate provost for education and student life, said the SGA president addresses the board at each meeting and the board is quite supportive of the students' concerns. SGA President Carol Brown announced that a tobacco-free campus remained a high priority for the SGA at the Aug. 12 meeting and the board embraced the goal and promptly passed a resolution in support of the initiative.

"The Student Government Association has been interested for many years in MUSC becoming a tobacco-free campus. They believe that as an academic medical center, we should foster healthy behaviors among our students, employees, patients and visitors. As is the case for many members of the MUSC community, students have been particularly concerned about the smoking huts near the hospital entrance."

Shaw said the SGA is proud to have played a role in this change and grateful for the support of the board and efforts of a large group of MUSC employees who are putting in place the myriad steps needed for the campus to become tobacco-free.

That includes efforts of MUSC's Employee Wellness, which in conjunction with the implementation date will be offering several opportunities for employees to learn more about resources available to them or for those who are ready to quit, to explore options that may help them succeed. See related story below.

Susan Johnson, Ph.D., wellness program coordinator, said tobacco-free policies in all sectors of business and industry are becoming a national trend with hospitals acknowledging how tobacco use does not fit into their mission of promoting good health. One of her colleagues at Wake Forest Baptist Health, which went tobacco-free in 2007, said that as a result of the policy change more than 500 employees chose to quit tobacco with a high percentage of that number indicating that family members and friends joined them.

"We have the opportunity to not only protect the health and wellbeing of the MUSC community while on our campus, but also impact smoking habits," said Johnson. "Evidence has shown that tobacco-free policies in workplace settings both indoor and outdoor are associated with reduced daily cigarette consumption and increased cessation among employees."

The goal is to provide a comprehensive tobacco cessation program to support the efforts of those people who wish to quit and to create the culture and environment that will motivate behavioral change among smokers at MUSC, she said.

"We are asking for smokers and nonsmokers alike to support our tobacco-free initiative. The decision to go tobacco-free is not an attempt to force anyone to quit smoking. We understand that this is a personal choice and the behaviors employees choose to engage in on their own time is not our concern as long as they do not have a negative effect on their ability to perform their job. However, we value and support healthy lifestyles among our employees and students and will attempt to provide as many resources as necessary to anyone who makes the decision to quit."

Greenberg said this policy shift dovetails with MUSC's goal of putting more resources into preventive care. MUSC has a growing number of clinical programs focused on prevention, such as the Weight Management Program, the Wellness Center, the Healthy Charleston Challenge, the Lean Team, the Seinsheimer Cardiovascular Prevention Program and a proactive Employee Wellness Program.

In October, MUSC brought on board one of the world's leading authorities on tobacco policy, K. Michael Cummings, Ph.D., to lead research on tobacco control, public policy and smoking cessation within the Hollings Cancer Center's Cancer Prevention and Control program.

"Hopefully, the message that it sends is that MUSC is committed not to just treating illness once it develops, but in preventing it from occurring in the first place," said Greenberg. "We have to practice what we preach. We cannot speak with credibility about reducing risks of cancer, heart and lung disease in the community if we do not start in our own back yard."
Did You Know?

Smoking causes cancer, heart disease, stroke, and lung diseases (including emphysema, bronchitis, and chronic airway obstruction).

For every person who dies from a smoking-related disease, 20 more people suffer with at least one serious illness from smoking.

Approximately 70% of smokers want to quit completely.

More deaths are caused each year by tobacco use than by deaths from AIDS, illegal drug use, alcohol use, motor vehicle injuries, suicides and murders combined.

Visit MUSC's tobacco-free campus website at http://www.musc.edu/tobaccofree.
Tips to help kick smoking habit
Quitting smoking is both a mental and a physical undertaking. Mentally, a person should be ready and relatively stress-free. Physically, one needs to commit to exercising daily and getting plenty of sleep. A person trying to quit must overcome two obstacles: a physical addiction to nicotine and a habit. The American Academy of Otolaryngology and the American Lung Association offer the following tips to help users quit using tobacco products:

Think about why you want to quit and pick a stress-free time to quit.

Ask for support and encouragement from family, friends, and colleagues.

Start doing some exercise or activity each day to relieve stress and improve your health.

Get plenty of rest and eat a balanced diet.

Join a smoking cessation program, or other support group.



MUSC Employee Wellness is focused on helping employees who use tobacco find ways to quit, on increasing knowledge of lung health, and on raising awareness about the importance of establishing a tobacco-free workplace.

Ready to quit? MUSC has resources to help.

Online

By Phone
The Tobacco Quit Line is a free service to S.C. residents. Call 1-800-QUIT-NOW (784-8669) to talk to a trained tobacco treatment specialist: http://www.scdhec.gov/health/chcdp/tobacco/quitforkeeps.htm.

In Person
Many classes and clinics are available at MUSC and in the community. For more information on smoking cessation programs, email musc-empwell@musc.edu.

Smoking Cessation Clinics – Monthly three-session cessation clinics facilitated by physicians, psychologists and wellness staff free of charge for MUSC employees, students and family members. Classes begin in January. To register, email musc-empwell@musc.edu.

Tobacco Free Tuesdays – Free one-session classes created to provide employees and students the opportunity to learn about cessation options during their lunch break. Classes are scheduled at noon every other Tuesday beginning Jan. 3. Email musc-empwell@musc.edu to register.

Freedom From Smoking — Freedom From Smoking (FFS) Clinic is a program developed by the American Lung Association that provides a group setting for adults to work through the quitting process. There are eight group sessions led by trained facilitators and physicians who are also MUSC employees. This clinic is open to all MUSC employees, students and spouses. For information, e-mail musc-empwell@musc.edu.



Other Programs

MUSC Institute of Psychiatry: 792-5200. "The Non-Smoking Section" 5 - 6 p.m., every Wednesday, 4 North, Center for Drug and Alcohol Programs, Institute of Psychiatry. Four educational groups. Cost is $25 per group.

Trident Health System, Summerville Medical Center: 797–FIND (3463). American Cancer Society Fresh Start Program. Cost is free.

Roper St. Francis Health Care: 402–CARE (2273). Three one-hour classes offered by Roper Heart & Vascular Center staff based on Duke University's "QuitSmart" system. Cost is $25.
Pharmacy: MUSC pharmacies have several products that aid in smoking cessation. Stop by any of the campus pharmacies to ask questions and purchase items to help quit smoking. Pharmacy locations include Rutledge Tower, University Outpatient, Hollings Cancer Center and Ashley River Tower Outpatient..

Websites and Resources
http://www.smokefreelowcountry.com; http://www.sctobacco.org; http://www.protectlocalcontrol.org/state.php?sid=41; http://www.cdc.gov/tobacco; http://www.lungusa.orghttp://www.scdhec.gov/health/chcdp/tobacco/smokefree.htm; http://doingyoudamage.com; http://doingyoudamage.com/truthaboutyoursmokes.htm; http://roswell.tobaccodocuments.org; http://www.tobaccovideos.com; http://roswelldocs.com/hall_of_shame.htm; http://roswelldocs.com/ashes/ashestoashes.html; http://legacy.library.ucsf.edu.

Visit http://www.musc.edu/tobaccofree for MUSC's tobacco-free campus website that features the approved policy and educational resources.