Editor's Note: Chelsey Baldwin of Little River is a second-year medical student. This column follows the journey of her class in becoming doctors.

I've come to look forward to the cool rush of the pool at the Harper Student center. I am no expert, in fact, I can be rather clumsy. Regardless it feels so unconstrained, my only thoughts: stroke arm, kick leg. I'm like a child escaping what can feel like the constant dictatorship of a hyperactive, know-it-all mother: Medical School. While I love her and know that she means to do well by me; I still make faces behind her back and refuse to get out of the pool when she calls for me.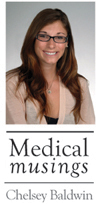 She always wins. I feel guilty disobeying her. I pull myself from the pool each time and go find my chore list for the day. My mother has made a schedule from now until Christmas break of a list of obligations. Read this. Be there. More times than not, she'll send me an email with something new that she has either forgotten or wants me to do in a different order.

Yes ma'am, I'll do it.

There are times when I just can't take her constant bossiness. I just want to tell her no. I want to walk off in a storm of rebellion. And sometimes I do, I just don't walk too far. Now and then I slip under her radar and let Chinese food and movies take priority over her nagging. As my primary care doctor warned me before school started, "You know Chelsey sometimes they'll ask more of you than you're able to give, and sometimes you just can't do it. And that's all right."

As much I may feel spiteful toward my mother, I am constantly reminded that I need to be pushed, more than ever in my life. Up to this point, initiative has always been self-derived. No one could ever ask more of myself than I, not until MUSC took on the role of my mother. Now I feel like I'm repeatedly asked to push myself further and as much as I sometimes begrudge telling her no, I am better for it.

Go meet your senior mentor! She scolds me for procrastinating. I don't have time I complain. Yet I manage to make the trip out to see Joan with my medical school siblings. Not that I ever fully forget, but I do enjoy being reminded how lucky we were to have Joan as our senior mentor. This time she tells us about her upcoming trip to Brussels. She exemplifies what it means to age not only gracefully but fantastically. She is active, fun, and exciting: exactly what my mother wanted me to see is possible in the senior community.

Present your research project! No, I can't. I won't. This time I'm putting my foot down mother! Yet she waves off every objection I have. I have no choice. I push myself late at night to complete a poster that I was sure my mother would understand I shouldn't have to do. I am angry at her; doesn't she see how tired I am? I present and win in my category.
I thank her for pushing me once again.

MUSC is a demanding governess. She is unrelenting with her towering expectations of me and my siblings. Yet my siblings constantly exemplify how well these requests can be fulfilled, and they too motivate me. Cumulatively, we are an overachieving, hardworking family that I love despite the hardship of being a member.