Fourth-year pharmacy student Kevin Curler knows most of his classmates face student loans after graduation, but that didn't stop him from issuing a $20,000 matching challenge to his fellow students to get MUSC one step closer to groundbreaking on a proposed 83,000 square-foot pharmacy building.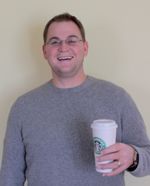 Kevin Curler hopes to inspire fellow students to forgo a few luxuries to raise funds for the new pharmacy building.



Curler, class president, joined forces with fellow class officers Peni Duncan and Christie King to pledge to match, dollar for dollar, any donations made by the class up to $20,000.

"Last year's class pledged over $19,000, the single largest gift from a graduating class ever at MUSC, regardless of college," he said. "I want to see that number pushed over $40,000."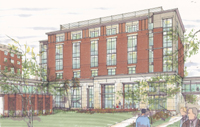 A rendering of the new phamacy building.



MUSC President Ray Greenberg, M.D., Ph.D., describes the gesture as being truly inspirational.

"It should motivate all of us to do more ourselves. It makes it much easier to ask others, such as alumni, to help when our students who have tremendous financial pressures are making such leadership gifts."

It's difficult to predict when plans will proceed with the South Carolina College of Pharmacy's (SCCP) building on its MUSC campus. Greenberg said it depends on how fast private funding can be raised and the availability of a state capital bond bill.

The Drug Discovery Building, expected to be completed fall 2011, will provide the pharmacy college with teaching and research space, including a new pharmacy practice lab funded by CVS, but this is not the long-term solution, said Greenberg. "Ultimately, the new building for the college will be integrated with the Drug Discovery Building and will provide a world-class educational and research environment."

In the interim, it's the enthusiasm of advocates such as Curler and events such as the tribute campaign celebration Feb. 19 honoring Wayne Weart, PharmD, that help keep the momentum moving forward.
Greenberg said these steps are vital to the building campaign. "This program is critical to our vision for the role that MUSC can play in training pharmacists, improving health care and driving the knowledge-based economy of our state."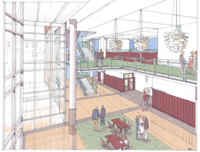 A rendering of the lobby atrium of the new pharmacy building. Renderings by LS3P Associates LTD.



Megan Draper, MUSC campus director of development for the College of Pharmacy, said the MUSC pharmacy family of staff, faculty, students, alumni and other friends has contributed more than $3 million toward this $30 million campaign goal. The proposed new facility is a six-story, 83,000-square-foot building located on President Street that is to be linked via pedestrian skyways to the Drug Discovery Building and the College of Dental Medicine building.

"Right now we must push forward in raising private funds to support the campaign. Every gift makes a difference," said Draper. "With any campaign, the key is continued support and dedication to meeting the goal. When external stakeholders see considerable support internally, it is very persuasive and helps raise additional dollars. The administration is dedicated to seeing this through."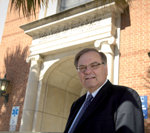 The tribute campaign celebration for Dr. Wayne Weart will be Feb. 19 at the Charleston Marriott.



The idea for the tribute campaign for Weart came almost two years ago when alumni came to her to ask how to honor Weart for his many years of service and his passion for pharmacy education. Discussing various options, they decided the perfect way was to name an area of the new building in his honor. On Feb. 19, friends and colleagues will gather at the Charleston Marriott to celebrate his birthday, toast his contributions to the profession and raise money in his honor for the new MUSC pharmacy building.

Alumna Deborah Stier Carson, building leadership committee member, said it seemed logical to honor him in the Building the Future of Pharmacy Campaign since he has devoted his career to building the future of the profession.

"When students enter an area of the building named after Wayne, they should know that they will work hard and gain an abundant amount of knowledge," said Carson. "His teaching has touched thousands of lives, and it is our desire to have generations of pharmacists know the impact he made on their profession."

Draper said the tribute campaign provides the college the opportunity to recognize key people in its history through what will be one of the greatest milestones in almost a century for the MUSC campus. "We also have the privilege of honoring Dr. Arnold Karig and look forward to honoring others in the future," she said.

For more than 70 years the current building on Calhoun Street has been home to pharmacy education at MUSC, but the facility has become outdated.

Joseph T. DiPiro, PharmD, SCCP executive dean, said the new building will make an important impact.
"Our physical surroundings facilitate the work of our faculty. Properly designed, built and equipped, a new building can enhance productivity of our faculty, empowering them to continue producing the best-trained pharmacists in the nation," he said. "This is the passion that leads to building the future of pharmacy."

Curler certainly has that passion. The class president, who holds a master's in business administration, figured out that pledges can be made during a five-year time frame. If 75 class members pledge $100 per year during that time, it would add up to $57,500. That breaks down to two fancy coffees a month, he said.
He'll drink to that.



Campaign fast facts



77 percent of MUSC faculty and staff support the building fund, having raised more than $112,000

74 percent of the class of 2010 raised $19,295 (more than any class, of any college, has raised in the class gift campaign)

The class officers of the class of 2011 have issued a matching challenge gift of $20,000 to their classmates to support the building campaign.
The pharmacy leadership society, Phi Lambda Sigma, has donated $5,000 toward the building.
For more information about the South Carolina College of Pharmacy, visit
http://www.sccp.sc.edu/welcome/facts.aspx

MUSC's building campaign, http://www.buildingthefutureofpharmacy.org/index.html

Dr. Wayne Weart tribute campaign, http://www.buildingthefutureofpharmacy.org/newevents.html










Friday, Feb. 11, 2011