Who


Almost 50 Oakbrook Middle School students visited MUSC's new neuro-rehabilitation labs in preparation for their statewide FIRST LEGO competition that has the theme of "The Body Forward." The students were among some of the first visitors to get a peek at the lab, which will have its grand opening in May.



What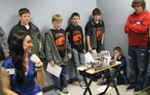 Jenna Nott, research coordinator, helps Dr. Cameron Nott (not pictured) demonstrate a robotic arm.
Students rotated through three stations learning from MUSC research scientists about the role biomechanics, engineering and robotics play in post-traumatic injury rehabilitation. They had demonstrations in the Locomotor Rehabilitation Lab, saw a robotic LEGO arm built by an MUSC researcher and experienced how an exoskeleton can assist in walking.



Best Good Sport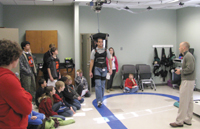 Aaron Embry (in harness) demonstrates the ZeroG, body-weight support device in the College of Health Professions new neuro-rehabilitation lab as Dr. Chris Gregory, right, explains its usefulness for stroke patients.

Aaron Embry, research associate, won that title as he allowed himself to be strapped into a harness on the ZeroG, body-weight support device to do various demonstrations, including mock falls. Chris Gregory, Ph.D., and Mark Bowden, Ph.D., showed how physical therapists can use the device during rehabilitation. The ZeroG is an advanced overground gait and balance training system. It allows patients to safely practice intensive physical therapy early in their rehabilitation, a factor thought to be critical in recovery.



Best Advice Given


When asked by students what subjects will best help them in the future, Jesse Dean, Ph.D., a biomedical engineer who showed them the workings of an exoskeleton, told them math.

"Math helps the most. It's hard to see its relevance now, but it will affect everything you do."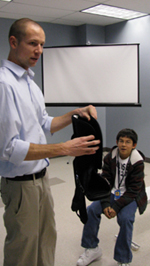 Dr. Jesse Dean fits Oakbrook Middle School student Travis Garipay with a brace to show the biomechanics involved with walking.

Friday, Feb. 21, 2011