Whether it'spatients posting on MUSC'sCommunity Blog, physical therapists tweeting about fitness or doctors writing blogs, sdvances in social media are changing the way health professionals communicate.

By Dawn Brazell
Public Relations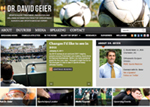 If C. David Geier Jr., M.D., has a spare minute, he's probably tweeting. Or perhaps researching the topic for his next blog or checking his website's Google analytics. Basically, he's just having fun. "I love doing it," he said, grinning like a boy with a new toy.
He pulls up his website page to show his latest posts. His website has had hits from all 50 states and 76 countries. Geier, an orthopaedic surgeon and director of MUSC Sports Medicine, blogs about sports injury prevention and treatment and writes on wellness topics for online publications and a column for The Post and Courier newspaper.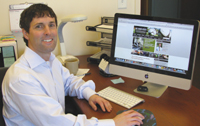 Dr. David Geier enjoys using new media as a way to connect with patients and to be an advocate for sports injury prevention. To see his website, visit http://www.drdavidgeier.com.
"I've learned I enjoy writing, and one of the things I'm trying to do is develop more of a media presence, and it's been fantastic for that," he said.

Having a passion for new media is one requirement for health professionals interested in testing the waters to see if and how they may want to use what's becoming a powerful tool in reaching out to patients and raising awareness on health issues.

Heather Woolwine, media relations director, said her advice to physicians, other health practitioners and administrators who want to get into the social media world is to start exploring various sites they like.

"Take the pulse. Listen first. See what people are saying and what information you have to offer that they are looking for and that may be unique to what others are doing. What I love about social media in media relations is that it allows us to connect with the people we serve in unprecedented ways. We don't have to rely only on news stories to get good news out. We would love for more people here to get involved and serve as ambassadors of MUSC in this way."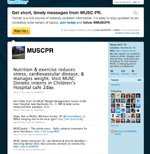 MUSC's Twitter page offers real time news and information in 140 words or less. Visit http://www.twitter.com/muscpr.
Geier said he's gotten very favorable reaction to his website both from MUSC colleagues and others across the country, and given the state of the economy, he hopes more MUSC health professionals will take advantage of new media. "It makes the university look fantastic. We need to be doing more of this."

It does take doing some homework before just jumping in. Geier said he was surprised how much time it takes to keep a site updated. Though it's easier for him now than when he first started, writing his blogs requires a substantial time commitment. It also takes patience in the beginning to build up a following.

"It's a lot of work, but it's well worth it," he said of the discussion that new media can generate. He also likes to clear up misconceptions that are in the press or raise awareness on issues that are important to him, such as preventing sports injuries.

Geier, who found he was frustrated by the poor information available online about sports injuries, said he enjoys getting out good, quality health news in layman's language that will raise awareness about wellness. It helps to build relationships with people. "I felt it was a good opportunity to get good discussion out there. I realized pretty quickly that I was enjoying doing it, and I got more efficient at it."

Becoming involved with social media is not for everyone, he said. Health professionals need to understand what's involved before taking the plunge.

Woolwine agrees.

"Not everyone feels comfortable taking the bull by the horns like Dr. Geier, and that's OK. There are other ways to get involved. For example, staff can comment on Facebook pages that relate to their expertise. On the MUSC Facebook page, our audience loves to read comments from the folks who work, train and study here, and they really love to see our humor, humility, and transparency," she said.

"Social media allows the MUSC community to get a better feel for the people we serve and in turn, for those we serve to better know us."

Jane E. Kelley, interactive marketing manager, said that patients and potential patients are accessing all types of health-related content online. "Our social media efforts are an outgrowth of the success of our muschealth.com website— consumers regularly search for doctors, treatment information, even personal health experiences through our pages, podcasts and videos."

MUSC's social media efforts, including the new community blog, give consumers a chance to share, question and ultimately engage with MUSC, she said.

"The relationship between patients and their health providers is a unique one and is frequently an emotional one. The social media outlets really give them a chance to express how MUSC and the people of MUSC have affected their lives and the lives of their families."

The MUSChealth Twitter account, with more than 3,800 followers, provides snippets of interesting health information that may be useful to specific segments of the population. It generates frequent comments and re-tweets, as others share posts with their own followers, she said. "The community blog is a much more personal experience for people. The entries may contain valuable health information, but they generally share patients' personal accounts of how MUSC has changed their lives and their gratitude for the life they now have."

These websites and social media outlets can generate patients for doctors or clinics, but that's not what drives Geier in using social media, he said.

"Eighty percent of the questions I get aren't from the immediate area, so I'm not going to see them as patients. But if it helps them go to their doctors or it helps them to question and make better decisions, then there's value in that."
Geier said he's beginning to understand the exponential or viral power of social media. "I'll use Twitter or Facebook to drive traffic to a post I wrote, and based on re-tweets or comments people make, I can see how many times my post was viewed by both my followers and the followers of them. One post might be seen by 2,100 people."
Health professionals becoming more active online can help bridge an enormous information gap, he said. Some specialties lend themselves better than others. "I think sports medicine is so broad because everyone runs or plays sports or lifts weights. Women's health, for example, or pediatrics would do very well."

Here are other tips for colleagues:
1. Try it out.
Geier said he's gotten significantly better in the last six months that he's been doing it, but it takes practice. He didn't realize how much he would enjoy writing until he started to do it. He recommends writing four or five unpublished blogs before deciding if it's right for you.

2. Expect a time commitment.
Some health professionals work with ghost writers, but even so it takes time to review the posts and keep up with them. "The worst thing you can do is start a blog that doesn't look good and isn't updated regularly."

3. Go through proper channels.
If representing MUSC, be sure to take time to clear how the online information is set up to make sure it's compliant with branding guidelines set by MUSC. For more information, visit: http://www.tiny.cc/muscmediaguide.

4. Know the legal guidelines.
Learn how to field questions to avoid legal issues and not get into the territory of giving information that's too personal and could be seen as medical advice. The information needs to stay general and Geier includes a disclaimer in every post.

5. Enjoy the nature of it.
"You have to be passionate about it. You just have to be." He loves the interactive, free-flowing aspect of social media and blogging. He'll have people ask questions, which will give him an idea about something he'd like to write. "It turns more into a discussion board and the blogger only has to put up a comment every so often to keep that discussion going."

Social media opens the door to a new way of delivering health information that's exciting for those who are drawn to it, he said. "Medicine is not just opening your doors and saying, 'come in and see me.' It can be, but we're evolving away from that. This is one way to be proactive about getting out there and being involved with the community.
"We need to capitalize on our academic expertise. We're MUSC. If this article encourages a couple of people to get involved with social media and blogging, that's good. It's good for MUSC. It's good for the university."

Social media Q&A
Heather Woolwine, Media Relations

Q: What are advantages of social media?
A: Social media is not about pumping information out in a new platform and seeing what sticks to the wall. It's about letting go of "the control" you thought you had in terms of internal or external communications and allowing a conversation to happen. Numerous communication models and research point to the two-way communication model of an open dialogue and feedback as the most effective means to getting your message across. Creating a social media web presence, for any health care professional, can be very rewarding if you take your time in thinking about the reasons you want to do it and what you have to offer.
Q: Who is it for?
A: Social media participation is not right for every individual or for every business or professional. Take a hard look at why you want to create a page or presence, who you want to talk to, and how much time you can devote to the conversation.
Q: What resources are available?
A: There are people in MUSC's Office of Public Relations who've been reading, researching and watching these communication trends for years and who can assist in developing a potential social media plan. Call, e-mail or find me on Facebook anytime. (792-7669 or woolwinh@musc.edu) The Office of Public Relations also will be hosting periodic social media training sessions. The first Twitter workshop to teach faculty and staff how to easily use this social media tool to help meet business goals, manage your online reputation and begin a conversation with those you serve will be at 2 p.m., March 24 in Room 404 at 135 Cannon Street.
Patients get to be in Community Blog spotlight

Patients get tobe in the spotlight in MUSC Community Blog that launched Jan. 24. Business Development & Marketing Services' Patrick McHugh said it's a forum where patients can share how MUSC is changing what's possible through medical care, research and education.

"Our interest in their health doesn't end at discharge, so we developed a public forum where they can both share their stories with us and serve as a resource for others who might find themselves in the same situation. Our goal is to share medical information in a way that is meaningful, fosters healthy dialogue and builds relationships between our patients, the community and MUSC."

Here are some highlights of patients who already have shared their stories.

•       After two miscarriages, Andele was told getting pregnant again could threaten her life, but she kept trying and after two more miscarriages she came to MUSC for her next pregnancy. Despite her anxiety, the concern and priority MUSC staff showed her made a huge difference in her life and pregnancy and her doctors and nurses cheered when a healthy Ziggy was delivered.
•       Katie had a C-section for her first birth, but wanted to try for a VBAC (vaginal birth after c-section) for her second child. Others told her a VBAC was simply not possible, but at MUSC she found doctors who said otherwise and she knew that if complications arose she and her little girl were in the best hands. "Had it not been for the wonderful supportive team over at MUSC my dreams of a vaginal delivery may not have happened," she said. "When we have another child I know we will be back to MUSC for another fantastic experience."
•       Laura had a long hospital stay when her pancreas was removed and her insulin cells were transferred to her liver (an islet cell procedure), but said: "It was not the horrible experience I was expecting. I just can't find enough words to describe the heartwarming care I received there."

The new MUSC Community Blog allows patients like these to share their experiences about how MUSC has changed what's possible for them and their families, said McHugh.

"We hope the MUSC staff will find the blog informative and thought-provoking and will encourage patients to share their stories and join the conversation. There are so many great stories to tell, and we want the community to hear them."

To see the new blog, visit http://www.muscchangingwhatspossible.org.