By Cindy Abole
Public Relations
In children's author Lynne Barasch's book, "First Come the Zebra," the story focuses on the cultural struggles of two Kenyan boys, who grew up as enemies from rival tribes, but who work together and overcome conflict by realizing their differences and coexisting in harmony, hope and friendship.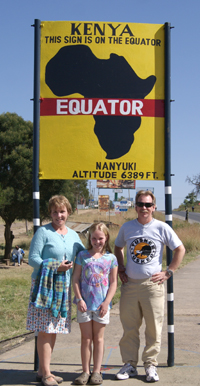 Registered nurse Kathleen White visits Kenya for the first time in 26 years with her husband, Bryan and daughter, Amelia.

It's a theme that resonates loudly for Kenyan-born neonatal nurse educator Kathleen White. Drawing from her multicultural childhood in East Africa, White wants to be a catalyst for positive change among students and practitioners in health care focusing on respect, collaboration and acceptance. For the past year, White has worked with campus leaders, students and individuals to address prejudice, discrimination and conflict by developing dialogue skills through MUSC's National Coalition Building Institute (NCBI) program.

White is among four women at MUSC honored as part of the 2011 National Women's History Month celebrating leadership and excellence. This year's theme, Our History is Our Strength, recognizes 100 years of women's achievements around the world.

White is the youngest of four children born to American career missionaries affiliated with the Africa Inland Mission International, and grew up with the Kikuyu people in the central highlands of Kenya, East Africa. The Kikuyu tribe led the uprising against British colonialism resulting in Kenya gaining its independence in 1963. White has seen first-hand the results of the country's tribal tensions, affecting the government, land and everyday lives of the Kenyan people.

As a child, she remembers watching visiting missionary doctors and nurses caring for and treating the men, women and children in the Naro Moru and Kijabe communities where she grew up. Their presence and influence had such an effect on her that her mother made her a child's nursing outfit to play in. It was her first introduction to nursing and health care.

In January, White and her husband, Bryan, and 10-year- old daughter, Amelia, returned to her native Kenya and visited towns and villages from the Great Rift Valley to Mount Kenya and Kenya's eastern coast.

"It was a trip of a lifetime for me and my family," said White, about her homecoming after a 26-year absence. "Although Kenya has progressed and seen growth in its cities and towns, there are still dramatic socio-economic contrasts."

Embracing her past, White has always shared an intercultural spirit and non-judgemental attitude with others as a nursing student studying at Columbia University in New York's inner city and throughout her career as a NNICU nurse in Michigan, Illinois, Virginia and South Carolina. She came to MUSC in 1990 to manage the Children's Hospital's neonatal intensive care unit (NNICU) services. Then, she received her master's degree in nursing from MUSC's College of Nursing and worked as a neonatal nurse practitioner. She spent two years with facilities management as a
nurse consultant and project manager before returning to the NNICU as nurse educator.
Deb Browning, R.N., Perinatal Service Line clinical director, works closely with White in the NNICU.

"Kathleen's an organized, dependable and genuinely caring person who has great empathy for others," Browning said, of her friend and colleague. "She is focused on improving neonatal outcomes by use of evidence-based nursing practices. She brings a lot to the table within Perinatal Services."

Wanting to do more beyond the clinical setting, White got involved with the Office of Diversity's NCBI Welcoming Diversity training and communications workshops to promote campus diversity and reduce prejudice and conflict. She found it easy to teach students, faculty and employees behaviors she was passionate about. She's collaborated with NCBI campus director DaNine Fleming, Ed.D., and other colleagues as an active trainer and mentor with the NCBI Campus Leadership Team.

The Office of Student Diversity's associate director Laurie Charles, Ph.D., remembers how White voluntarily completed the three-day diversity training workshop and other education required by leadership team participants. "Kathleen easily stepped into the role of leader throughout the program. She was extremely thoughtful in her planning and cited from both personal and professional experiences to emphasize specific information. It was a delight to watch her interact and connect with others," said Charles.

White continues to make a difference whether she's guiding neonatal nurses in the units or teaching the value of diversity and interprofessionalism with physicians, nurses and other health care professionals in training.

"This level of training and skills building is so important in health care today," White said. She believes hospitals and higher learning institutions are in a vulnerable time. "With diminishing resources and greater demands in terms of quality and compassionate care for our patients, health care professionals need to work effectively together now more than ever. It is essential that we use collaborative-building skills to work through the relational struggles that role diversity brings. If not, people look to their own self interests, naturally pulling away from one another, which leads to struggles reminiscent of those amongst the tribes in Kenya. It doesn't have to be that way.

"My hope is that if we choose to do this work, our interprofessional relationships and clinical outcomes will both improve," she said.

It's a hope-among-struggle belief that White has grown up with and passes on to daughter, Amelia.
Women's History Month
"Our History is Our Strength"
A panel discussion, featuring Romina McCandles, Dale Rosengarten, Teresa Gore and Joyce Coakley, will be held from noon to 1 p.m. March 31, Room 100, Basic Science Building