By Dawn Brazell
Public Relations
The first thing Evin Evans wants to do when she gets out of the hospital and home to her farm is to take off her shoes, bury her bare feet into the earth and breathe.

Breathe without it feeling like she's sucking air through a piece of lava.

Breathe without the burden of oxygen tanks weighing her down.

"I want to reconnect to the land," she said in her hospital room as she began the tough road of recovery from her March 9 double-lung transplant. "I'm not ever going to take it for granted. Taking a breath is phenomenal. This is a big deal. It's a big deal for me. It's a big deal for MUSC."

That it is.

Kim Phillips, R.N., and transplant service line administrator, said this completes the one missing piece of a well-established, multi-organ transplant center. It also means that organs can remain in state as was the case for the last transplant where the three viable organs remained in the state and went to patients at MUSC.

Evans, who learned that two other patients also were recovering at MUSC having received organs from the same donor, got teary as a friend told her it was like she had cousins now.

She took in the news, nodding. "It's like we're family," Evans said of the gift. An organ donor herself, Evans said no one knows until their life depends on getting an organ what it feels like. "On one level, I underestimated how grateful I would feel. It's a gift beyond what you can imagine."

MUSC had a lung transplant program from 1994 to 1997, but it was discontinued after the chief surgeon left. With the completion of Ashley River Tower and the key recruitment of Timothy P.M. Whelan, M.D., of the University of Minnesota to be the lung transplantation medical director and William Yarbrough, M.D., of Stanford University as surgical director for the lung transplant program, MUSC was able to offer the program again.

Whelan said MUSC is better prepared now as there is a core group of surgeons involved and the project is supported on all levels by the hospital, including the departments of surgery and medicine.

Pictured from left are: Drs. John S. Ikonomidis, cardiothoracic surgery chief at MUSC, Chadrick Denlinger, cardiothoracic surgeon, and William M. Yarbrough, Lung transplant program surgical director, as they perform a double lung transplant for Evin Evans.
A referral center for patients with advanced lung disease, MUSC eventually will perform 30 to 40 transplants a year, Whelan said. He was drawn to this field because lung transplantation affords patients a second chance. "All of these patients are quite ill and would not remain alive despite our best attempts at medical therapy. There is nothing like seeing a person who is dependent on oxygen taking a deep breath with a set of lungs that work perfectly."

MUSC's Pulmonary Division is nationally recognized for its leaders in chronic obstructive pulmonary disease, alpha-1-antitrypsin deficiency, pulmonary hypertension, pulmonary fibrosis and cystic fibrosis, which are the major diagnoses that are receiving transplants in the nation.

"Without transplant as an option at MUSC, these patients had to go to a different center and meet a whole new team. Needless to say, this is a burden to patients who are already vulnerable from their advanced lung disease."

Other advantages to MUSC having the program is that it expands educational opportunities for MUSC residents and fellows and provides an opportunity for continued research into advanced lung diseases, organ recovery and transplant outcomes.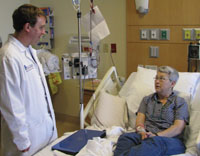 Dr. William M. Yarbrough sees how Evin Evans is feeling after her double lung transplant.
Whelan and Yarbrough were pleased by Evans' progress. She was breathing on her own without oxygen 24 hours after coming out of the operating room, and discharged after nine days. The average length of stay nationally for a lung transplant is 22 days.

Evans needed lung transplantation because she had end-stage lung disease as a result of lung fibrosis. She was impaired to a large degree with respect to performing basic activities and was dependent on supplemental oxygen, said Yarbrough.

"Quite frankly, she remained short of breath most of the time and was miserable as a result. Without lung transplantation she would not likely have survived more than another year or so. She really didn't have any other options, and it was fortunate that she was otherwise in good condition so that she could become a transplant candidate," he said. "Her success is a testament to her fortitude as well as to the excellent care she has received from numerous individuals at MUSC."

Both doctors are glad that patients now can receive care closer to home and face shorter wait times related to the allocation of organs for transplant. Phillips said the program has benefitted from the hard work of a great team with amazing leadership. "We never have to send lungs away. Local lungs can stay locally. I'm so excited. This is a great resource to have."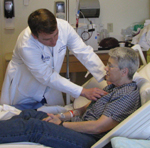 Dr. William Yarbrough checks Evin Evans' vitals after her transplant.
Evans, 60, was dual listed for her transplant at MUSC and Emory University School of Medicine, but said she was glad to end up in state. "I felt I would gain a lot of personal attention and I have," she said, adding that she had done her research on her team and felt she was in safe hands. "I had been embraced by the medical community in a way I haven't before in other places I've been."

Owner of Split Creek Farm that is known for its award-winning goat cheeses, Evans knows all her 350 goats by name. She's eager to return home when she finishes her pulmonary rehabilitation. She said she knows her life will be more constrained, but it won't be like it was. Before she couldn't even fly to the international competitions she was asked to judge because of all the oxygen equipment she was required to keep with her. Even walking across a room tired her, and she had to take her oxygen with her to shower.

Evans said she has spent one-third of her life in denial about her illness, one-third crying and one-third angry and depressed. Now that she has a second chance, she smiles.

The next portion she wants to spend in gratitude.
The Miracle of a Double Lung Transplant
Editor's Note: The following is a description of the steps involved with a double lung transplant at MUSC.

Donor lungs become available and candidates at the top of the waiting list are considered for transplantation. The appropriate recipient is called to come to MUSC and is prepared for surgery. Simultaneously, a lung-recovery surgical team is dispatched to the donor hospital where the donor lungs are assessed and inspected. If the lungs look good, then the transplant surgeon and anesthesiology staff at MUSC are notified so that final preparations can be made.

The recipient is placed under general anesthesia and monitoring lines are carefully inserted. An incision is made down the middle of the chest so that the breastbone can be divided (i.e. sternotomy). This incision is the same incision that is used for "open-heart surgery" and is the preference of the MUSC lung transplant team. The incision down the front of the chest ("open-heart incision") requires the recipient to be placed on the heart-lung machine for cardiopulmonary bypass during the transplant.

At MUSC, the heart-lung machine is used for carrying out double lung transplants and this allows both diseased lungs to be removed from the chest cavity of the recipient in a stable fashion. Removal of the diseased lungs includes division of the airways as well as the arteries and veins carrying blood towards and away from the heart, respectively. Upon arrival to MUSC, the new lungs are quickly, and safely, sewn into the chest of the recipient. The airway of one lung is connected first. Then the veins carrying oxygenated blood away from the lung are sewn to the left atrium of the heart. Finally, the pulmonary arteries carrying deoxygenated blood towards the lung are connected.

The same process is repeated on the other side with the goal being to have both lungs sewn into place in less than six hours from the time of their procurement at the donor hospital. The new lungs are gently ventilated and the recipient is separated from the heart lung machine. Drainage tubes are inserted around the lungs to evacuate fluid and the chest is closed. Patients are transported to the intensive care unit where they are closely monitored and are taken off the ventilator as quickly as possible. Medications are administered that suppress the recipient's immune system so that they do not reject the lungs. These medications are continued indefinitely. After spending a couple of days in the intensive care unit, patients are promoted to the step-down unit where aggressive rehabilitation begins. Patients typically remain hospitalized anywhere from 10 to 20 days.