By Katie Stacy
Public Relations

Twenty-eight-year-old Timothy Barentine faced serious problems Dec. 3, 2010. He was experiencing flu-like symptoms and multiple complications, including multi-organ failure and neurological problems.

The Beaufort native needed to fly via helicopter for treatment at Ashley River Tower. Worst of all, he had no insurance. This is when Patricia Roberts stepped in and offered her support to this struggling family. She helped Timothy get insurance as well as apply for disability benefits.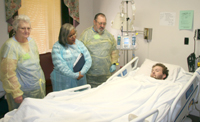 MUSC social worker Patricia Roberts, center, talks with patient Timothy Barentine and his parents Connie and James Barentine. At MUSC there are 20 clinical effectiveness social workers.
With Roberts' support and the hard work of all the staff, he has shown improvement in his function and speaks in partial sentences. He is also able to sit up in a special wheelchair for a period of time.

James and Connie Barentine appreciate all the support Roberts has given to their son during his stay at MUSC. Connie said they were so fortunate to have Roberts care. "She's wonderful. I would like to take her home with me."

Every March the National Association of Social Workers celebrates more than 640,000 social workers in the United States and the benefits they give to their patients. The theme for this year is Social Workers Change Futures.

Roberts, a clinical social worker, has changed many patients' futures. Originally from New York, Roberts has been helping patients and their families for more than 37 years.

She believes the best part of the job is all the challenges it brings. "There's never a dull moment, even days that begin seemingly simple sometimes become more complicated." Many of the patients have complex social histories and it is the job of a social worker to piece everything together. Each person on staff brings different experiences and skills that they use as a team to work together, she said.

Social workers must have a wide range of skill sets and knowledge. This includes understanding infant needs all the way to geriatrics needs. Duties can include discharge planning, educating patients and their families about resources available, reporting child abuse, and resolving alcohol and drug issues.

For information on social workers at the Children's Hospital, visit http://www.musckids.com/socialworkers. For information on social worker month visit http://www.naswdc.org/.