Ford's research in health disparities improves outcomes
By Cindy Abole
Public Relations

In her 20 years working in population research and academia, MUSC behavioral scientist and cancer epidemiologist Marvella Ford is living her dream and making a difference in the lives of others.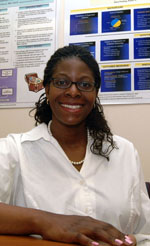 Dr. Marvella Ford

Ford, Ph.D., has accomplished this as a dedicated researcher and mentor to others while meeting her own interests of improving the environment around her by helping others succeed. She's a living example of what spiritual and political leader Mahatma Gandhi meant challenging individuals to "be the change you want to see in the world."

Ford came to MUSC in 2005 as an associate professor in the Division of Biostatistics and Epidemiology and in 2006, accepted dual roles at the Hollings Cancer Center (HCC) as co-director for Cancer Prevention and Control Program and associate director for cancer disparities.

"We've made a lot of progress, but we have a long way to go as it relates to understanding the causes of disparities within communities. They can be caused by many things from social and environmental causes to behavioral and genetic contributors.
We're just starting to understand this," said Ford.

Ford is one of four women in March being recognized as part of the MUSC's National Women's History Month program celebrating leadership and excellence. "Our History is Our Strength" is the 2011 theme recognizing 100 years of women's achievements around the world.

Ford has dedicated her career to identifying and eliminating health disparities among populations and in communities. She's conducted studies that focus on factors affecting the participation of older African-Americans in cancer clinical trials research.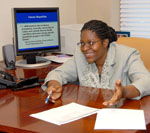 Dr. Marvella Ford explains her research.

In spring 2009, HCC won National Cancer Institute designation becoming the only cancer center in the state to achieve this status as it joined the ranks of elite cancer centers across the country. This designation raises the bar for the institution to find more effective approaches to cancer prevention, diagnosis and therapy. Ford has contributed her expertise in several patient outreach, education and prevention programs through the HCC's Cancer Prevention, Control and Outreach Program.

She's gained some support through multi-site South Carolina Legacy Grants to increase breast and cervical cancer screenings among at-risk black populations around South Carolina and evaluating the outcomes.

"Our goal is to reach women who've never been screened for mammograms and other cancer tests. These evidence-based interventions are demonstrating how we can make an impact on cancer death rates in statewide communities," Ford said.

Past Defines Future
Ford grew up as the only daughter of hard-working, middle-class parents in Plattsburgh, New York located on Lake Champlain. She excelled in school and was the only one of her siblings to choose a career in academia and health sciences research.

Although she never knew her grandparents, she remembers being affected by their absence. According to Ford, both sets of grandparents died when her parents were still very young. Ford seemed more interested whenever she observed how friends interacted with their own grandparents and elderly relatives.

"I was curious and wanted to learn more about my own grandparents and what caused their deaths. That interest led me to studying health disparities and what were the causes and contributions for premature death in people," she said. Both sets of grandparents died from health-related complications.

Craving change, Ford attended Cornell University. Her biggest influence was social work/sociology educator and mentor Josephine Allen, Ph.D., a Fulbright scholar and professor who gained distinction as Cornell's first black woman to gain tenure.Allen inspired Ford and other minority students to think critically while focusing on some of the day's top social welfare policies and public health issues. Allen's guidance led her to further studies in health and cancer population research.

Following in the steps of her mentor, Ford attended the University of Michigan and completed a dual doctoral degree program, earning master's degrees in social work and social psychology in 1987 and 1989, respectively, and a combined doctoral degree in 1992. She continued as a postdoctoral fellow working on studies affiliated with the National Institutes of Health (NIH) and National Institute on Aging. Later, Ford led an NIH-funded prostate, lung, colorectal and ovarian cancer screening trial and collaborated with national experts, including Barbara Tilley, Ph.D., former Biostatistics and Epidemiology chair, in several companion studies and grants supported by the National Cancer Institute (NCI) and the Department of Defense (DoD) to explore recruitment strategies and improve participation of African-American males in related trials.

A Role Model
In 2002, Ford moved to Houston to work in the Baylor College of Medicine and the Michael E. DeBakey VA Medical Center, where she conducted an NIH/NCI-funded R01 study examining ways to improve the informed consent process. Later, she had a chance to mentor other minority developing faculty in disparities research working with the state's Historically Black Colleges and Universities (HBCU) specifically at Texas Southern University's College of Pharmacy.

"Every time we conduct a research study, it naturally leads to asking more questions and seeking answers, which is the exciting part," she said. Ford's success in Texas helped her build a foundation for mentorship and development of MUSC junior faculty and cancer research-minded undergraduate students who were interested in population-based health disparity research at other HBCUs—South Carolina State University, Claflin University, Vorhees College and other statewide institutions.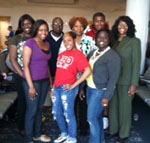 Just recently, Ford accompanied six program students whose research abstracts were selected for presentation at the DoD Prostate Cancer Research Program's Innovative Minds in Prostate Cancer Today conference in Orlando, March 9-12. Ford and several project colleagues also presented abstracts describing the training program.

MUSC's Dr. Marvella Ford and Melanie Johnson accompanied students who presented research abstracts relating to prostate cancer at a March conference in Orlando.
Sabra Slaughter, Ph.D., chief of staff, MUSC President's Office, is a co-principal investigator (along with Ford) on the three-year Southeastern Virtual Institute for Health Equity and Wellness (SE VIEW) project. SE VIEW focuses on reducing health disparities through research and outreach in the areas of health education, screening and follow-up for communities around the I-95 corridor of South Carolina.

"Marvella is a smart, attentive and gracious person and an exceptional colleague and recognized standard-bearer for excellence as it relates to community-based research," he said.

Ford continues to make her own mark at MUSC and the lives of many South Carolinians and minorities across the country. "Throughout my life, I've always wanted to help people. I feel I'm able to do this by organizing quality, designed research studies that may ultimately make a difference in the health and wellness of others."
King lends style, experience to role in public relations
By Dawn Brazell
Public Relations
Whether it's dancing with President Ronald Reagan or in the hot seat with Larry King, Sarah King exudes grace under pressure.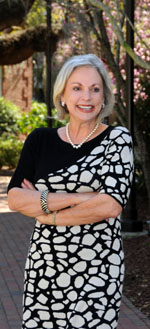 Dr. Sarah King

It's a gift that has served her well through the years, particularly as MUSC's director of the Office of Public Relations. King, DHA, is one of four women selected at MUSC to be honored as part of National Women's History Month as women who exemplify leadership qualities and who make significant contributions in their fields.

Becoming a strong leader really wasn't an option for King, whose father's diplomatic and military career had her in training at an early age. Born in Fort Riley, Kansas, she lived in six states before she was 8. Then it was off to Europe, where she attended a boarding school in Switzerland, getting a crash course in French and German so she'd be able to make friends. She remembers it as a lonely, but exciting time and one of many lessons she'd have in life on the value of adaptability.

It was a lesson her mother taught her as well.

Her mother, who's from Poland, survived the invasion of the Russians at age 12 and lived in the woods with resistance forces for two years. "Then the Nazis came into Poland, and she never saw her family again after that."
King said her mother taught her and her sister to be strong and independent. They could move from continent to continent, and within a week she'd have them all resettled. Her mother, a fabulous hostess, speaks five languages.
"She's one of the most brilliant people I've ever met and she's always happy, which is strange given all that she went through as a child. She's elegant—just very elegant."

King returned to the States with her family at age 13, eventually settling in Atlanta, Ga., where her father retired to do management consulting.

"He had this great idea about servant leadership long before anyone else was talking about it. I got to go to a lot of the lectures. It's funny how life comes full circle because 40 years later my doctorate was in leadership. So much of what was taught was stuff that would echo from Daddy years and years ago."

Up in the Air
King, who would go on to get her doctorate in healthcare administration and policy from MUSC in 2007, thought medicine might be her chosen field when she first started her college studies. She attended one of her pre-medicine classes where they watched a baby being born on film. She laughs. "I walked out of the classroom and passed out and decided I'd better change my major."

Graduating from the University of Georgia with degrees in clothing and textiles and interior design, her path took another turn. On a whim, she and a friend saw an advertisement about TWA hiring hostesses. It was back when such jobs were glamorous and the competition tough, with only one in 5,000 women interviewed being hired.

"Just on a lark, we decided to go try for it. That's back when they had weight requirements, and you had to wear fake eyelashes. You had to wear a girdle so you wouldn't shake when you walked down the aisle. If you had chipped nail polish or a run in your hose, you could be fired on the spot. It was a whole different world back then."

King's mother was appalled. In her first act of rebellion, King decided to try it for six months anyway.

"When I first started flying for the airlines, my mother cried copiously. 'I can't believe Swiss finishing schools and
colleges so you can be a cocktail waitress in the sky.'"
King rose in management, and eventually ended up working for Eastern Airlines where she became involved with public relations and the marketing of new destinations. "When Eastern went out of business, my mother was crying again. It's the second time she's cried, 'How can you do this to us?' They got so used to the passes. I could never please her," she said, laughing.

In the early '80s, King worked as a news producer for the BBC and Professional Video Services in Washington, D.C. and learned about journalism and broadcast. At about the same time she met who was to become one of the most influential role models in her life, activist Gloria Steinem, who taught her the fine art of handling media.

She perfected skills she would come to need as she became one of the founders of Mothers Alliance for the Rights of Children (MARC), an advocacy organization that fights for legislation to protect abused children. King was drawn to the cause by the case of a friend. The more she learned about the extent of the problem and ignorance in the nation, the madder she got.

"We go and fight wars for democracy because we're so great, but yet we allow children to be sexually abused or starved, and we send them right back to abusive situations. It made me sick. It just made me sick."

King, a self-described zealot in this area, poured her energy into advocacy work, pushing for legislative advances to provide for more protection, appearing on such television shows as "60 Minutes" and "Larry King Live" to raise awareness, and working with Lynda Carter of Wonder Woman fame as the cause's spokesperson.

Still active in supporting MARC, King has received high praise for her work. Steinem, who publicly named King as one of her three heroes, once praised her friend's advocacy efforts saying that no one has done more to save the lives and hearts of others.

MUSC President Ray Greenberg, M.D., Ph.D., said one feature he admires about King is how she approaches all
aspects of her life—at work, at home, and in the community—with great passion and commitment.
"Her active pursuit of community service gives her exposure to issues and concerns beyond the walls of the campus and helps to inform us about how we can more effectively communicate about the medical university. She networks well with the local media and is seen by them as an honest broker of information."

Queen of Style
King's wardrobe reflects her belief in wearing classics. Selected by Glamour Magazine in college as one of four best dressed coeds in America, King has moved through the decades without losing her sense of style.

"What I appreciate most is individual style—whether it's home or clothing. I like people who know themselves well enough to work and live doing what they are comfortable with. If no one likes it, I don't care —as long as I am feeling OK with it."

Keeping a gratitude journal, King said she feels blessed to have had so many opportunities in life. Having done everything from dancing with former President Ronald Reagan at the White House to flying Cessna planes, she's content with the places she's been and the things she's been able to do. Her proudest accomplishment is her three children. Her soft spot is animals. She owns two parrots and four dogs.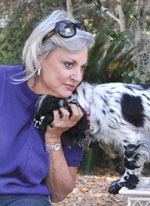 Dr. King with her dog, Molly

She smiles. "My kids think my hobby is rescuing dogs."

Of all the jobs she's done, one of her favorite roles remains being the owner and manager of Interiors by Design in Summerville, a job she held in the mid '80s. One of her most fulfilling, though, has been her current one as public relations director.

King said she never had thought about working at MUSC, but when she became the first woman candidate for Congress in the history of the state in 1994, it brought her to the attention of former MUSC President James B. Edwards, DMD. "When it was over, [Mark] Sandford won, but Dr. Edwards called me and said, 'I'd like to talk to you about working in P.R. I didn't vote for you, but I liked the way you ran your campaign.'"

Involved in her advocacy work, King wasn't looking for a full-time job. What changed her mind was the challenge Edwards set before her.

"I liked him very much and he said, 'We're seen as a bunch of brick buildings, and I'd like for people to have a friendly feeling toward MUSC, and your campaign felt friendly."

When she first started here, she told Edwards what really would help was for everyone to have flight attendant training. She laughs. "Of course, he thought I was insane," she said, adding that she got her point across that MUSC needed to set the bar higher for the quality of service expected.

"How you treat people is the most important part of life—people and animals. It says everything about who you are. It's not what you're wearing or what you look like or what your title is. How you open up in your heart and care about someone else is how you are judged."

King said she loves her job. She especially enjoyed her role in facilitating MUSC's outreach efforts in helping Poland launch a breast cancer awareness program. Globally and locally, MUSC does so much, she said.

"It's been better than I expected and easier. MUSC has so many great stories. The hard part is getting them all out. What I love most about our department is that we affect hundreds of thousands of people by getting out the news of how their quantity and quality of life can be improved. That's a gift to be able to do that."

King said she feels fortunate to have had great mentors in her life. She once tried to thank her friend Steinem for all that she had taught her, but she stopped her.

"'If you want to thank me, just pass it on.' I have found that to be true because there are always opportunities to pass it on, and it can be so rewarding in how it can come back. Everything you say—everything you do—has a ripple effect on the world."

Women's History Month
"Our History is our Strength"
A panel discussion will be held from noon to 1 p.m., March 31, Room 100, Basic Science Building

Romina McCandless has worked with the Latino community in Charleston as a medical assistant, an emergency medical technician and as a medical interpreter. She began working with the MUSC College of Nursing's Hispanic Health Initiative in 2009 as a graduate intern.

Dale Rosengarten is curator of the Jewish Heritage Collection at the College of Charleston where she also teaches in the Jewish Studies Program.

Teresa Gore is a member of the Santee American Indian Tribe of the areas surrounding Holly Hill. She is the founder and director of an organization whose mission is to honor the historical and contemporary contributions of American Indians in S.C.

Joyce Coakley is a Charleston native, skilled sweetgrass basket maker, historian, and fluent speaker of the Gullah language. She is president co-founder of the Sweetgrass Cultural Arts Preservation and owner-designer of Sweetgrass Baskets by Design.