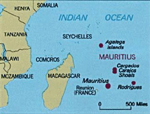 By Marianne Dubard, M.D.
Biochemistry and Molecular Biology
I am sure most of you have never heard of the place.

Reunion Island. Is that a place on Earth? Really? Never heard of it. Well, keep reading.

Reunion is located in the Indian Ocean, south of the equator and east of South Africa and Madagascar. It belongs to the Mascarene Islands with Mauritius and Rodrigues. It is a tropical island, where the alternating summer and rain seasons offer gorgeous fruits and vegetables, wonderful fish and seafood and tropical storms that can pour 4 or 5 feet of rain in less than 24 hours. Snorkeling and scuba diving take you under the clear water of the lagoons and into the deep blue among beautiful schools of parrot fish, barracudas, turtles and grey dolphins. The waterfalls, preserved vegetated landscape and miles-long, high-altitude mountainous terrain will take your breath away.

Some tourists even get a chance to see the volcano, Le piton de la Fournaise, in action. It erupts about once a year and shoots thousands of cubic meters of lava all the way down to the ocean.

Reunion Island was a territory occupied by the French in the 17th century, given its strategic location on the East Indies trade route. Immigrants and slaves contributed to the economic early development by working on Reunion's fertile lands and producing coffee, vanilla, sugar cane and tobacco, crops that were sent around the world. After abolishing slavery in 1848, French colonists promoted immigration from Western Africa and Madagascar, the Cantonese coast of China, South East Asia and the French ports of India. That created a diverse mix of ethnic and cultural surroundings and a unique melting pot. The population's major food among all social backgrounds consisted of rice and starchy roots with vegetables. During the past four generations though, Reunion has gotten more industrialized and has adopted a more modern lifestyle; we have developed a strong background for insulin resistance and obesity. Fifteen percent of the population has Type 2 diabetes, and it is estimated that another 10 to 15 percent is prediabetic. Many Reunionese don't see the benefit in losing weight and exercising, while many patients don't see the importance of keeping their glucose levels under control, giving Reunion one of the highest incidences of chronic renal failures and retinopathies in France. Reunion is facing an enormous public health challenge.
Reunion Island is one of the 26 regions of France (being an overseas region) and an integral part of the Republic.
Reunion Island was discovered by the Portuguese in the early 16th century and was uninhabited at that time.
The island was renamed as Reunion Union in 1793
Reunion Island remained a French colony throughout, except for a brief occupation by British, from 1810 to 1815.
Sugarcane industry dominates the economy of Reunion Island.
The main exports of Reunion Island include sugar, seafood, rum and vanilla.
The lowest point in Reunion Island is formed by the Indian Ocean, at 0 ft (0 m).
Reunion Island was the first region in the world to use the euro, mainly because of being located in a time zone to the east of Europe.
Reunion Island sends five deputies to the French National Assembly and three senators to the French Senate.
The culture of Reunion Island is a blend of European, African, Indian, Chinese and insular traditions.
Majority of the people are Catholics, followed by Hindus, Muslims and Buddhists.