By Cindy Abole
Public Relations
Sometimes the best medicine can be family and friends.

That's what a new pilot project for MUSC's Medical Intensive Care Unit (MICU) and other critical care units found.

The Pascales would agree.

New Yorker Peter Pascale didn't know what to expect after learning that his father, James, had fallen and was taken to MUSC. After a month and several visits to MUSC's critical care units, the Pascales found themselves at the MICU, where James continues to receive comprehensive, specialized care recovering from a broken neck and other complications. Peter has had to juggle spending quality time with his father while accommodating other family as visitors.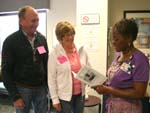 MICU concierge Renoitta Fludd, right, reviews family information with hospital visitors David and Joan Rogers.

The Pascales and other families can now enjoy the flexibility of visiting their loved ones whenever they want thanks to the new open visitation policy. The effort is part of the medical center's shift to accommodate patients, families and visitors and has potential to improve a patient's outcome and experience and the family's satisfaction.

Janet Byrne, R.N., MICU nurse manager, said that hospital leadership tested this in a pilot program for MICU patients. The policy was then adopted based on research results that found that hospitals with liberalized visiting hours contributed to improvements to patient care and communications between patients, families and clinicians.

"Bottom line, it's just the right thing to do for patients and families," she said.

The unit's previous visitation policy allowed families to visit during specific hours and was dependent on the patient's medical status and guided by their assigned shift nurse. The new policy allows families to visit patients (two visitors at a time) almost anytime, except for periods when staff undergoes shift changes. During two-hour period quiet times, activity is reduced to a minimum—no procedures or tests are conducted, lights are dimmed and voices are encouraged at whisper level. Families are encouraged to visit the cafeteria, walk outside or sit at the patient's bedside.
"Both patients and staff love it," Byrne said.

MICU is a 17-bed adult critical care unit where employees focus on the care and comfort of some of the sickest and most severely compromised patients. The MICU team cares for patients with cancer, diseases of the blood, lung, liver and kidney or diagnosed with gastrointestinal problems. Patients can stay for as little as a few days to up to several months. The team works closely with the unit's house concierges, Volunteer & Guest Services employees, to accommodate families and visitors. The concierges are located in the MICU waiting area and help families locate discounted lodging and dining around the area. Byrne takes time to check in and round on all MICU patients and their families.

The study, which evaluated critically ill patients and the effectiveness of an unrestricted ICU visitation policy, was conducted by Donald M. Berwick, M.D., and Meera Kotagal of the Institute for Healthcare Improvement. Their findings were published in the Journal of the American Medical Association in 2004.

Additionally, the new policy also establishes visitation rights for Medicare and Medicaid patients. Last fall, the Centers for Medicare & Medicaid Services unveiled new hospital visitation rules for Medicare and Medicaid-participating hospitals. The rules focus on a patient's rights and recommended equal visitation privileges based on race, color, national origin, religion, sex, sexual orientation, gender identity and disability. It also required hospitals to have written policies about a patient's visitation rights. The policy has been adopted for use in other adult critical care areas including CCU/CTICU, MSICU, STICU and NSICU.

Surgery and Medicine Acute Critical Care service lines director Tom Hubbard also feels that anxiety and stress on families can reflect on a patient's status and recovery.

"When a family member is restricted to when they can visit their loved one, they are more likely to be anxious, angry and lined up at the door when visiting hours begin," said Hubbard. Once the new open visitation policy was introduced in January to MICU and subsequently to other ICUs, hospital staff noticed marked improvements to family satisfaction. "Knowing that they are not restricted to certain visiting hours, family and guests seem more relaxed and at ease when visiting their loved one," said Hubbard.