Department
ART Central Supply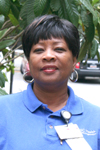 How long at MUSC
8 months

Favorite TV show
":aw and Order," all of them

Bad habit
Not letting people finish their sentences

Most embarrassing moment
Placing my hand on the stomach of an associate I once knew and asking when her baby was due. She told me her baby was now 3 months old.

Favorite restaurant
The Barbados Room at the Mills. They have the best she crab soup.

A must-have in the fridge
Cheese, almonds and fresh blueberries

Greatest moment in your life
The birth of my son

Favorite quote
"Always measure life by the moments that matter."

Favorite radio station
Any station that plays gospel or jazz

Friday, April 15, 2011